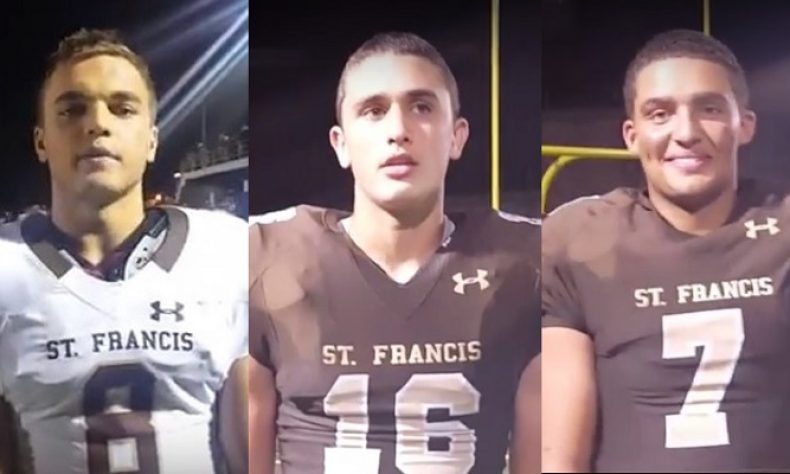 L-R: Blake Howard, Greg Dulcich, Darius Perrantes By BRIAN REED-BAIOTTO, Sports Editor | Photography By Ryan Tomey St. Francis got to the CIF-Southern Section championship game for the first time in 53 years, because they had a coaching staff and roster that from top to bottom was willing to sacrifice all individual glory for the […]
L-R: Blake Howard, Greg Dulcich, Darius Perrantes
By BRIAN REED-BAIOTTO, Sports Editor | Photography By Ryan Tomey
St. Francis got to the CIF-Southern Section championship game for the first time in 53 years, because they had a coaching staff and roster that from top to bottom was willing to sacrifice all individual glory for the greater good.
It sounds cliché, but if you had the honor to see them each week and speak to the players and coaches throughout the season, it really was all about "we" and not "I" for the Golden Knights.
St. Francis (12-2) won a month's worth (4) of games than the next closest Pasadena area school (Poly, 8-2-1) and they were the only program to win one, let alone three postseason games.
While there isn't necessarily a 'superstar,' on the roster, they have guys talented enough and with the discipline that would make any school, coach or program proud and better off for their presence.
St. Francis finished second in the Angelus League after falling flat against Cathedral in the regular-season finale and right when you might have thought this team was going out early in the playoffs, the Golden Knights saw so many of their players step up.
Perhaps no moment in the postseason was bigger than sophomore Kevin Armstead's pick of La Serna at the 7-yard line in the first round of the playoffs that thwarted a Lancers' comeback, and one that would have ended the Golden Knights' season.
Elijah Washington gave everything he could to this program the last two seasons, both running the ball and at linebacker. He even played the final two weeks of the playoffs injured, because of the love he has for the program and his teammates.
Whether it was Isaac Cordova making blocks for receivers and running backs and catching passes on offense, or being amongst the best defensive backs in the Angelus League with 62 tackles.
Or Andrew Monarrez being one of the area's most sure-handed receivers, or Gabriel Grbavac being arguable the area's most athletic defender/
Whether is was Armstead impressing everyone with his versatile skills on both sides of the ball, St. Francis had it all.
But no three guys in the Pasadena area seemed to do more when more was needed than quarterback Darius Perrantes, wide receiver Greg Dulcich and receiver-linebacker Blake Howard.
The Golden Knights' trio have been named the 2017 Pasadena Sports Now Football Players of the Year for their unparalleled contributions and success.
While reading what these three special young men accomplished, please take into account that each of the three played limited minutes in the first 5 games and 7 of 14 because of blowouts, so their numbers skew down from what they could have been had they played four quarters each week.
Perrantes started his career at St. Francis with a bang.
The junior threw for 6 touchdown passes in the 48-21 victory over Mira Costa in 'Week Zero.'
Perrantes would then slow down a bit and even sat out the Buena Park game to injury as the Golden Knights went to 3-0.
In fact, Perrantes had four total TD passes between that season-opening thumping over Mira Costa until the ninth game of the year against Harvard-Westlake.
But as all coaches and athletes hope, Perrantes peaked when it mattered most.
He threw for 4 scores and ran for another in a 50-point beatdown of Harvard-Westlake and then played his best football in the playoffs.
In all, Perrantes completed 155 of 260 passes for 2,917 yards.
He threw 28 touchdown passes and was picked just 7 times.
Of the 28 scores, he spread them out to 8 different receivers, and he had multiple TD's to 6 of those 8.
He didn't stop there, though.
Perrantes rushed for 324 yards and 11 TD's to give him a combined 39 total scores for the season.
His play in the CIF-SS Division 3 second round at Citrus Hill with two TD passes to Dulcich, his 7 scores against El Toro in the semifinals and his two throwing and two rushing TD's against Rancho Verde in the championship game upped his already expensive stock.
"Darius was the unknown guy going into the season," coach Jim Bonds said. "The season was nothing short of spectacular. He had such a calm and cool presence on the field and it started rubbing off on the rest of the team. He had so many throws this year that you just said 'wow,' and with his 28 passing and 11 rushing TD's, Darius was a huge part of our success this season."
Perrantes is all business on the field, but he's not above cracking a smile after a big win and because of the honor he feels it is to lead this group of young men and for a school he quickly fell in love with.
"This season was a blast," Perrantes said. "I knew it was just a matter of time before I went off, but I couldn't have done that without the hard work and support of my teammates and coaches. My offensive line fought so hard every week in the trenches. My receivers had the best hands of any team I've ever played for, and my running backs, Elijah and Kevin, get what we call the 'needy-greedy' yards. They are something else. I am so proud of how hard these guys and these coaches fought for our school in the championship game. I will always be proud to be associated with the guys I went to battle with every day since January."
Dulcich is without question the area's premier big-game receiver and he was twice as good in the postseason than even his regular-season heroics.
He's also a revered leader.
Along with fellow seniors Matt Barriga and Elijah Washington, Dulcich was elected to be a 'Golden Knight,' which is the most respected status for that program as captains.
The 6-foot-4 two-way starter caught 50 balls for 1,168 yards.
Dulcich's tall and lean frame gave him a long stride that weekly made defenders look bad trying to keep up the Golden Knights' senior.
He caught 12 TD passes, and those numbers could have been higher, but 7 other teammates had receiving scores as Perrantes shared the wealth.
Dulcich rushed for 252 yards and scored 3 more TD's with his long and deceptively quick feet.
He filled in for Perrantes at quarterback in the 39-14 victory at Buena Park on September 29.
But it was his numbers that he put up in the postseason that not only separate him from the pack, his stats over that month could go up against any in the entire southern section.
Dulcich caught 7 TD passes and had over 500 yards receiving in just the playoffs.
Those numbers alone would be considered a solid season for most receivers.
And take away the numbers for a second, it was the tough catches to extend drives and keeps opposing offense's off the field that were equally as important as anything you could ever read on a stat sheet.
But what impresses most about Greg Dulcich is his willingness to swallow his pride after being told he would not be the Golden Knights' quarterback and instead, he became the area's best and most prolific receiver in 2017.
"Greg was our big-play guy throughout the season. Every time he touched the ball, there was a possibly of him taking it to the house," Bonds said. "His size and strength made it difficult for opponents to match up with. The best thing about Greg is that he played his best in the games that mattered most, in the playoffs."
His size, speed, strength, intellect and humility should make Dulcich a hot commodity for any program at the next level.
"We had a great season and even though we fell just short of our ultimate goal, I think we set a great example for future Golden Knights and blazed a trail to succeed," Dulcich said. "I think I had success in the postseason, because all of us knew we needed to step up our game in the playoffs. I will miss the home games, because we got so much support from the school, our alumni and especially our families."
Howard is someone several people within the Pasadena football scene called the most versatile and complete player the area produced this season.
And that says a lot.
Take into consideration that No. 8 looks like someone you couldn't possibly be intimidated by if you saw him in street clothes.
But once he puts on that St. Francis uniform, Blake Howard is a stud.
His roles were many and he did them all well.
Howard was second to Dulcich in the following three categories.
He had 37 catches for 581 yards, and 7 receiving touchdowns.
Howard was first on the team with 70 tackles at linebacker, and he tied his best friend, Gabriel Grbavac, with 4 sacks, to lead the Golden Knights defense.
It doesn't stop there.
Howard not only kicked off, but he punted as well for the Golden Knights.
In fact, he had more touchbacks than any player in the area, and averaged nearly 40 yards per punt..
He is such a complete athlete that he's strongly considering trying to walk on at the University of Alabama and attempt to be Nick Saban's kicker.
Howard really took care of his body in the off-season, and walked back on campus the strongest and fastest that he's ever been, and it paid off in ways you do see on a stat sheet and many ways you do not.
He's also an incredibly smart, funny and respectful kid that his teammates and coaches love.
Offensive coordinator Joe Monarrez, father of receiver Andrew Monarrez, said after the season, that "it's probably going to take three guys next year to do all the things that Blake did for us, and did it well."
His head coach loves No. 8 as well.
"Blake did so many thing for us, including kicking off and punting," Bonds said. "His contributions on both offense and defense were off the charts. He lined up at tight end, fullback, wide receiver, slot receiver, and was second in catches and first in tackles. He will be very difficult to replace, and Blake is an even better young man."
When telling Howard what area coaches, players and his teammates say about him, you can almost sense a little embarrassment, like, "really, me?"
Yes, Blake, you are that good and that respected.
"I think I made my biggest contribution at linebacker, because unlike offense, as a defensive player, you don't need to receive the ball to make plays," Howard said. "It was tiring at times playing all three ways (offense, defense, special teams), but it always gave me an opportunity to have an impact on the game. I wouldn't trade it for anything. It would have been great to win the championship, but to be the first team in 53 years to go that far is a great accomplishment. I am most proud to be part of a team that worked diligently for its success, and to be part of such special group of guys that I love."
Even the biggest of St. Francis' rivals would have to admit they would love, as would any program to have guys of Perrantes, Dulcich, and Howard's on-field skills and even more so the character in which they live their lives.
Quotable:
St. Francis captain Elijah Washington: "Blake, Greg and Darius were huge in the success we had this season, and just did what they needed to do in order to help this team win. Each of those guys played with heart and were always about the team first. Others like Isaac Cordova, Andrew Monarrez, Bobby Gazmarian, and Kevin Armstead were huge too. The offensive and defensive lines did their jobs and helped us skill guys focus on our tasks. It was a great season, and definitely one to remember."
St. Francis captain Matt Barriga: "Blake had an incredible season. As expected, he was Mr. do it all for us and he's been like that ever since we were younger and playing youth football together. It's been an incredible ride with him, and I'll miss going out on the field with him. Greg is clutch. He is a big man who knows how to use his body. He was always there to make big plays when we needed it. He is a true playmaker. Darius is a good quarterback, with a solid arm and isn't afraid to put his shoulder down and run someone over."
St. Francis captain Greg Dulcich: "Darius played a huge role in our success. He's such a talented quarterback and great teammate, and the plays he made often times won us the game. He'll definitely put on a show for us next year after a full season under his belt. Blake contributed a ton for us this year on offense, defense, and special teams. He's so athletic and he can do anything you ask him on the field, and a lot of the time this season he did. He was a big leader in practice and the weight room and he loves this program as much as anyone else."
St. Francis senior Blake Howard: "Greg and Darius did so many things to help us reach the level of success that we had. But I'd also like to mention and I know they feel the same way that none of this was possible without the work, the blood, the sweat and yes, the tears of each player, each coach and our families for sacrificing so much and allowing us to chase our dreams. It's an honor to be part of this school and this program."
St. Francis senior Andrew Monarrez: "Greg, Blake and Darius contributed to the team in the most mature way possible. They never worried about themselves as individuals, they worked their tails off, day in and day out and it gave a domino effect to the rest of the team."
St. Francis senior Isaac Cordova: ""Blake, Gregory and Darius were all hard working, team players who didn't care who got the credit for our success. Their work ethic and mind set rubbed off on us and made us all better, which helped in our success this year."
St. Francis junior Darius Perrantes: "Greg and Blake are dogs, they do so much, offense defense and special teams, they are leaders even though they are both quiet. They just have the will to do anything to be successful."
St. Francis sophomore Kevin Armstead: "We couldn't have gone this far without having an athlete like Darius showing out every game. It wasn't new to me watching him play, because we worked out together in the off-season, and I've known him for 8 years, so I knew he was capable of this. Greg is a great person to play with, as is Blake. They both deserve to get a chance to play at the next level and I hope that a school will give them that opportunity."