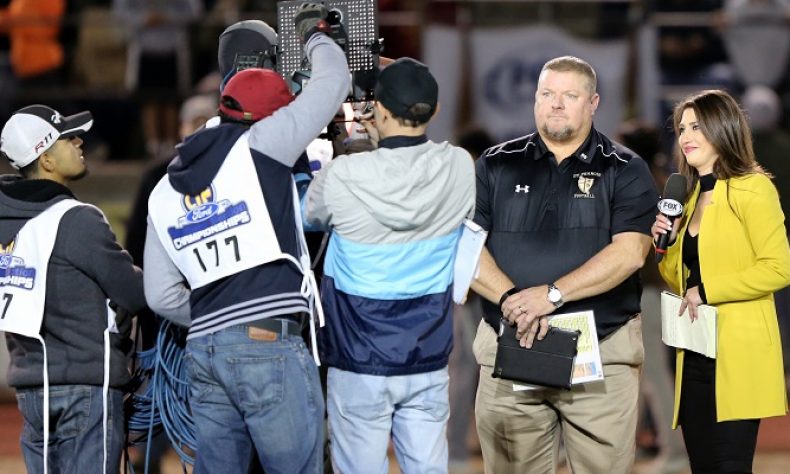 Jim Bonds interview at CIF title game By BRIAN REED-BAIOTTO, Sports Editor | Photography by Ryan Tomey There are so many titles that Jim Bonds holds in life. He's most proud to be called father, husband, uncle, brother, son and friend. But the one that impacts the most lives is that of coach. Over his […]
Jim Bonds interview at CIF title game
By BRIAN REED-BAIOTTO, Sports Editor | Photography by Ryan Tomey
There are so many titles that Jim Bonds holds in life.
He's most proud to be called father, husband, uncle, brother, son and friend.
But the one that impacts the most lives is that of coach.
Over his 18 years in leading the St. Francis football program, Bonds has influenced and changed the lives of hundreds and hundreds of young men.
If you spend any time around the program, the Golden Knights are a reflection of their 48-year old leader, as well as his talented and dedicated staff.
What stands out most to this reporter is the discipline, the detail, the selflessness and the togetherness of both the coaches and players.
St. Francis didn't just win more games than any Golden Knights' team this century, they made their first CIF-SS (Division 3) title game since before Bonds was born.
The 53-year drought ended and Bonds and his boys came within two seconds of winning a championship.
Rancho Verde, unfortunately, defeated the Golden Knights on a walk-off field goal to earn a 44-42 victory in front of an overflow crowd at Friedman Field.
It was understandably a tough moment to swallow, and it still is some 33 days later.
What made it more difficult to accept was his players wanting so badly to win Bonds a victory in his first CIF championship game appearance, but it was equally painful for all because of the quality of kids that made up that St. Francis roster.
Years from now, players and coaches will remember the final moments of the season, but the overwhelming memories will be that of success it hadn't seen in generations.
St. Francis' 12-2 season, which included its deepest run since 1964 was a testament to the false narrative that you need a host of Division 1 superstars to have success.
While it helps, the Golden Knights persevere and triumph, because their kids are a family and they win games because they are better prepared, better coached and they out-execute programs who claim to have more raw talent.
St. Francis won four more games than the next closest Pasadena area team (Poly), which translates in the football world to a month's worth of victories.
For their ability to bounce back from adversity, for their unparalleled success and for the way that program represents its school with honor, his players and coaches have helped Jim Bonds in earning his second straight Pasadena Sports Now Coach of the Year honor.
Bonds calls his fellow coaches his brothers and they spend more time with each other than their own families it seems during football season.
He wanted to point out how much coaches Mark Gibbons, Joe Monarrez, Ted Corcoran, Pat Carroll, Mike Cesta, Scott Traver, Bill Stewart, Mike Russell, Tony Zarrllo and Ernie Rojas mean to the program's success, as did equipment manager Louie Silva.
"The camaraderie and experience we have on our staff is unbelievable. We spend so much time together, going 7 days a week once the season begins in August until it ends," Bonds said. "We are like family. There is nobody I would rather take the field with than the group of guys we have."
What made the historical playoff run even more impressive was how they entered the postseason.
In their tenth and final regular season game, you won't find a single player or coach who won't admit they were not only outplayed on their home field, but they laid a proverbial egg in the Angelus League title showdown with league power Cathedral.
Those of us on the outside looking in thought, "oh, man, after a 9-game win streak to start the season, they're entering the playoffs on low note."
And typically that spells doom for many programs.
But not for St. Francis and not for Jim Bonds.
Bonds summoned his inner-UCLA (where he played) magic in citing one of the hundreds of John Wooden sayings about the feeling of entering the playoffs on a loss, and his team listened, took it for what it was worth and persevered.
St. Francis avenged last year's one-and-done showing by defeated La Serna in the first round and for the second time in 2017.
It had to be particularly pleasing, because the Lancers had a recent history of ending the Golden Knights' season in the playoffs.
That game and the season was saved by sophomore running back-defensive back Kevin Armstead, who picked off a La Serna pass on the 7 yard line and with less than a minute to go and a 4-point lead.
In the quarterfinals, Darius Perrantes and Greg Dulcich combined on two TD's and the running game ate up the clock to defeat Citrus Hill on the road, 30-20.
What came next shocked even the most confident of St. Francis players/coaches/parents/fans.
They throttled El Toro in the semifinals, 52-17, in a game that was even more of a blowout than even the score might indicate.
Perrantes threw for 5 TD's, including three to Dulcich and two to Isaac Cordova. He capped off the night with a pair of rushing touchdowns.
And that brings us to Rancho Verde.
As we mentioned, it was a nightmare come true.
Even the most loyal St. Francis fan would cede the fact that Rancho Verde had more big-time athletes on their roster, which is what made the Golden Knights' battle to the wire so inspiring, and even in a loss.
St. Francis found itself either tied or behind for literally the entire game until they took their first lead at 42-41 with 1:03 to play after Kevin Armstead rumbled in from 5 yards out.
Obviously looking back, they would have asked Armstead to get as close to the end zone before going down to try and eat up another 20 seconds or so before scoring.
But in the moment, that is a lot easier said than done and especially with so much on the line. And scoring a TD wasn't a given.
Every time it looked Rancho Verde was pulling away, the Golden Knights bounced back and made their fans, school, family and coaches proud.
Getting to know Bonds over the last two years has revealed a lot about this upstanding man, including the love and dedication to his mother, wife, two children and his entire family.
And the only thing Bonds takes more pride in than his program are his wife Tricia, daughter Katie, and son, James, for allowing their father/husband to lead young men into battle each week.
It can not be overstated how vital it is to have the support of a family so a coach or athlete can focus on their profession and knowing everything is taken care of at home.
If you go to any St. Francis game, and look down the north side of the home sidelines, you'd likely see Tricia nervously pacing around with coaches of other sports and rooting her husband's program on.
"Without the unbelievable support of my wife Tricia and my kids, James and Katie, I would not have been able to do what I love to do for so long. There is nothing better for me than to see my wife and kids on the sidelines every Friday night. St. Francis football has become a family affair for us for the last 17 years.
I have team pictures with James as the ball boy. Tricia and Katie rarely miss a game. Tricia has done the tough stuff at home for several years and putting her career on hold to raise our children. She helped with homework, dropped them off and picked them up from school, practice and other lessons as well as attended parent-teacher conferences, and cooked dinner every night. If she wasn't 100 percent on board and bought into St. Francis football, I wouldn't be able to enjoy my job as much as I do. It was even more special this year to see their support as we made our run to the CIF championship game," Bonds said in reflecting upon their sacrifices.
Another thing that was obvious was his love of country music.
Jim Bonds might not be Kenny Rogers, but he certainly could be called 'the gambler.'
To put it bluntly, Bonds has the stones to pick the most unpredictable and dramatic of times to call for unconventional plays.
In the quarterfinals, in Riverside, and holding to a 3-point lead late, St. Francis was set to attempt a Nico Boschetti short field goal.
The game was being streamed live online and while at some level, you were hoping they would punch it in for 7 to essentially put the game away, but kicking the field goal and making Citrus Hill drive the length of the field to beat the Golden Knights was the safe and prudent thing to do, right?
Nope!
Bonds called for a fake field goal that was carried out to perfection when the holder, Isaac Cordova, hit Conor McGrory to put the dagger in Citrus Hill.
Two weeks later, and in the championship, they not only converted on a fake punt that turned into points, Bonds also went for it on a 4th-and-9 play instead of Boschetti attempting a 26-yard field goal.
Again, 'the gambler' took a chance and it paid off when Perrantes hit Blake Howard on a 9-yard TD to tie the game at 35-35, and with 4:43 to play.
With all those great moments from the first day of practice to playing on the sport's biggest stage, you might ask what Bonds' favorite moment was.
"Making the CIF championship after playing in it 30 years ago was probably the most memorable thing of the season for me," he said."The fact that we were able to host the game at Friedman Field in front of so many alumni that have waited for this moment for such a long time was special."
One other thing that seems to go hand-in-hand with his success are the leaders who represent his program and this year was no different.
Senior running back-linebacker Elijah Washington, senior offensive lineman-defensive end Matt Barriga and senior wide receiver-defensive back and part-time quarterback Greg Dulcich are exactly what a 'Golden Knight' (captain) is supposed to be.
Each of the three made plays in all three phases of the game, but most importantly, Washington, Dulcich and Barriga let their work ethic, effort, dedication and ability to execute to set the tone for this dramatic run, and Bonds has said on many occasions how grateful and appreciative he is to those three solid young men.
You can't always get a true measurement by looking at numbers, but these stats really put the icing on a sweet St. Francis cake in 2017.
The Golden Knights went 8-2 against teams that competed in the playoffs.
Overall, St. Francis outscored its opponents by a combined margin of 617-261.
In their two losses, they fell by a combined 14 points, but in their 12 wins, SF enjoyed a 370-point advantage.
But just for a moment, take away the incredible on-field statistics.
Forget about the program making history with its best season in 53 years.
What those involved respect most is that Jim Bonds' biggest impact has nothing to do with football.
It's the life lessons and example that he and his staff have set for so many impressive young men that comes from such strong and structured families.
If you ever want to test that theory, go to a St. Francis home game and good luck counting the enormous showing each week of his former players over the past 18 years, and to be fair to the program before Bonds' arrival, you can still find alumni dating all the way back from the 1964 championship team in attendance to show their support.
Once a Golden Knight, always a Golden Knight.
Quotable:
St. Francis offensive coordinator Joe Monarrez: "JB is a good friend and a natural leader. He is like a brother to me and makes coaching with him fun. He always asks for our input and allows our staff to help with any program-wide decisions. Andrew (Joe's son) always wanted to play for Coach Bonds. He liked that we throw the ball and that he'd fit into our system. I think Andrew learned a lot about football and how intricate we run our program, but I think he learned more about life. Accountability is huge and Andrew never missed an off-season workout, practice or game. He learned the importance of playing for your brother next to you and how dedicated you must be to succeed. Those things are all taught by Coach Bonds and the school in general. What my son learned in his four years here will help him be successful in college and life."
La Salle coach Russell Gordon: "La Salle and St. Francis football will not like each other for 7 days out of the year, and that's the week we compete under the lights. The rest of the year we cheer for Jim and the boys, as he has built a character program. St. Francis has done a great job in supporting Jim and his program, from academics to finances and colleague support. Jim built a program that is well respected within the football community and most importantly the local community. The difference between a team and a program is a team consists of a lot of transfers or first-time varsity players who compete together. A program consists of kids who grow together from their freshman year to their senior years. Jim and his staff have build a 'program.' Jim does a great job of keeping opponents off-balance with his play calling. I would like to congratulate Father Tony Marti, Tom Moran, Joe Monarrez, Mark Gibbons and Ted Corcoran (and all involved) on a great season. Jim being picked as Coach of the Year is well deserved."
St. Francis captain Elijah Washington: "Playing for Coach Bonds was a huge honor, especially after my brother played for him and I got a sense of the kind of coach he was and that he wanted to win and do it the right way. He's had success, because of how much he cares for the program and the kids in it. What I'll miss most about playing for Coach Bonds is that sense of family. All those guys on the field became my brothers and it's going to be tough moving on from that."
St. Francis captain Greg Dulcich: "The program Coach Bonds put together has made me value hard work, loyalty and above all, brotherhood. What I appreciate most about my time in his program is the impact all the coaches made on my life. They're not just coaches, but mentors, who have shaped me not only into a better player, but a better individual."
St. Francis captain Matt Barriga: "Playing for Coach Bonds and all the coaches has been an incredible honor. I remember going to some of the summer football camps when I was younger and knowing that was the places for me. All the coaches have helped me grow as a player and as a man. I will forever be grateful to them. He is one of the best coaches I have played for and he cares for all of us like we were his own kids."
St. Francis senior Andrew Monarrez: "Playing for Coach Bonds was one of the best blessings in my high school career. He taught everyone how to play unselfishly, which humbled us all and helped us grow from boys to young men."
St. Francis senior Isaac Cordova: "It was a great experience to play for Coach Bonds' program. He not only helped me improve as a player, but also as a young man."
St. Francis junior Darius Perrantes: "Coach means so much to me in terms of my growth. Playing football, when I was younger, I had no clue what coverages were and did everything I could on physical ability. He doesn't know this, but he is the person who taught me how to dissect a coverage zone. Other coaches have tried, but it didn't click. With Coach Bonds, I have learned so much, and I'm very grateful for only on him, but the entire coaching staff."
St. Francis sophomore Kevin Armstead: "It was a wonderful experience playing for Coach Bonds and the entire coaching staff. He is what a true high school football coach should be on and off the field."
St. Francis head coach Jim Bonds: "The only thing that helps (accepting the CIF title game loss) is time, The more removed we are from the game, the more we can reflect on what an awesome year we had together. We battled hard in that championship game taking it to the final two seconds. Our guys never quit. They kept coming back and to me, that shows a tremendous amount of character. This team did something that hadn't been done since 1964. There is so much to be proud of and plenty of positive to focus on.
2017 Pasadena Area Records:
St. Francis (12-2)
Poly (8-2-1)
Muir (6-4)
Maranatha (6-5)
La Salle (3-7)
Pasadena (2-8)
Marshall (1-9)