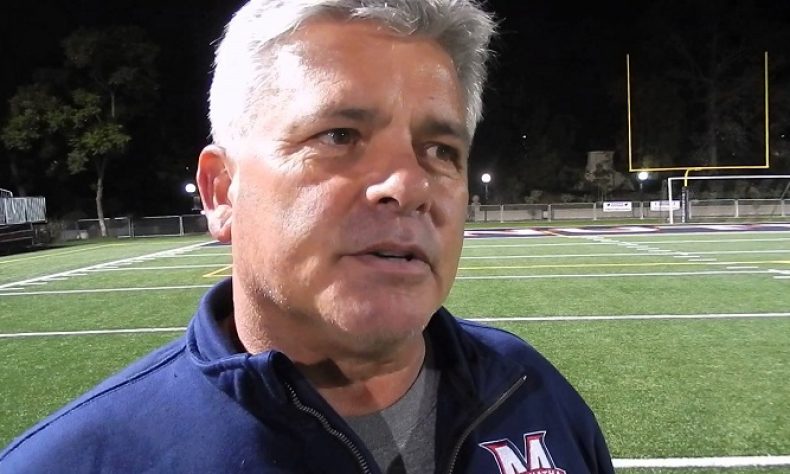 By BRIAN REED-BAIOTTO, Sports Editor For those of us in the San Gabriel Valley, when the name 'Steve Bogan' is spoken, you typically think about the four CIF-SS championships he won over a 20-year span at South Hills. And while he might have only been at Maranatha for the last four years, his impact on […]
By BRIAN REED-BAIOTTO, Sports Editor
For those of us in the San Gabriel Valley, when the name 'Steve Bogan' is spoken, you typically think about the four CIF-SS championships he won over a 20-year span at South Hills.
And while he might have only been at Maranatha for the last four years, his impact on hundreds of young men at the Pasadena Christian school will last a lifetime.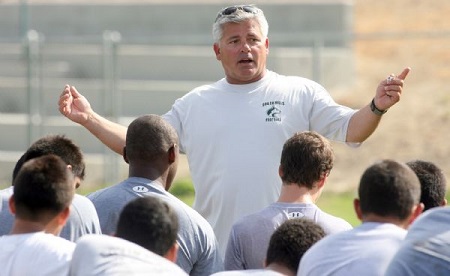 If you don't believe that, ask any of his players.
Bogan went 27-17-1 for a school that not only doesn't get big numbers, they don't typically get those blue-chip or five-star athletes that other programs are lucky to have.
In a brilliant 24-year career thus far, Bogan has a career mark of 199-86-1 overall, and has won 34 of the 52 postseason games his programs have competed in.
Bogan was a perfect fit at Maranatha, because he's a Christian first and a football coach somewhere after teacher and friend.
His lessons in the classroom were as memorable to his students and players than any scheme he designed to win a football game.
He is described as an honorable, inclusive, humble and a man who walks the walk.
The drive in this horrible logjam known as the San Gabriel Valley has gotten old to Bogan and he felt the time to step aside was now to give a school he loves the time needed to replace him.
Many are discussing the possibility that he could end up close to home with the highly-sought after Bonita position being open.
He didn't want to jump the gun as to what the future holds, but Bogan's resume is almost unparalleled.
Bogan has earned more CIF titles than all the Pasadena and La Canada area programs combined over the 24 years he's led young men to battle.
The father of his starting quarterback over the past few years, Antoine Peterson, who also served as a coach gushed praise for the 61-year old Bogan.
"I couldn't have asked for a better man or coach to be a part of Kwon's growth as a player and a young man," Peterson said. "Steve is a great football coach and an even better person. My son Kwon is better off for having Steve in his life."
Jaron Fairman played for Bogan at South Hills and then went to Fresno State.
Fairman spent time at USC and is a current coach for Lane Kiffin at Florida Atlantic University.
"I never thought I could play college football and certainly not get an education for free," Fairman said. "Before I thought I could do that, Coach Bogan believed in me and made me what I am today. He was so impactful in my life that I got into coaching because I wanted to have the same impact Steve had on me."
Sammy Skinner took over as the Maranatha athletic director just before the beginning of the 2017 season, and while he hasn't known Bogan long, the impact has been meaningful.
"Steve is a great Christian man and relates well to kids. He got the most out of the talent we had. Our varsity team had 26 kids, if that, and what he and his coaches were able to accomplish was incredible," Skinner said. "But it's Steve's teaching them about life and not just football that is a testament to what type of man he is. It will be a big loss and we hope to find someone who can come in and build upon what Steve had achieved."
Perhaps no one can tell the quality of this man like a rival.
Former West Covina coach Mike Maggiore, a three-time CIF championship head coach himself, went head-to-head with Bogan for area superiority, but neither ever compromised their principles to get a leg up on or off a football field.
Said Maggiore: "Coach Bogan was influential in my coaching career. He was an excellent strategist and understood the game better than most coaches. He also is extremely competitive as a person. He got the most out of his kids and cared for them as much off the field and this is what I respected the most about him. Many coaches just talk the game, he cares. I have a great deal of respect for Steve as a coach and a person.
I got to know him in high school at Edgewood in the early 80's, where he and his brother were young coaches on the staff there when I was in high school. Although we were both competitors in some great high school games over the years, he was always a class act and I always felt supported by him."
Despite injuries and at some point in the season only having 18 guys dressed on the sidelines, Bogan and the Minutemen were able to double their win total of 2016.
That and the hours he spends trying to help kids become better players and people, as well as his efforts to help his players get to the next level is what makes Steve Bogan a special man.
"I love the kids and people at Maranatha," Bogan said. "I will never forget all the great times and great people I've had to honor to get to know and call friend. It was just a frustrating drive every day and I felt like this was a good time to make a change.
Brian DeHaan, Eddie Arnett, and Dr. Guyertson sold me on a vision that was a blessing to be a part of. I believe that Maranatha has, is, and will continue to play a major, a huge, role in building God's Kingdom in the Pasadena area. The players have filled my life with joy, excitement (La Salle and Pasadena games are two examples), but more than anything purpose. I will be forever grateful to the whole Maranatha community!"
Quotable:
Maranatha senior Awan Parker: "Coach Bogan is one of my favorite coaches, and impacted me even more off the field and made me feel at home. He preaches the word of God and made me want to be a better person. He checked up on me all the time to make sure I was OK and he always made sure I was on the right path."
Maranatha senior Kwon Peterson: "Coach Bogan supported and believed in me before I believed in myself, and I'll always be thankful for the life lessons he's imparted on me. He wasn't afraid to let you know when he's upset, but it didn't bother us, because we knew it was to make us better players and people."
Maranatha sophomore Jacob Moreno: "Coach Bogan was one of the most amazing men I've ever met and I will always thank him for being there for the team and for me and everyone. The football team and the entire school will miss him."
Maranatha sophomore Vic Hoffman: "He was a great guy on and off the field. He kept everybody in check. He always was looking out for you and helping you out if you needed it. Always asked how you're doing in school. I want to wish him best of luck at the next school he's coaching for."
Maranatha baseball coach Matt Shupper: "Coach Bogan is an inspiring leader, a tremendous coach and above all else a great man with the heart of a servant and for the kids he's impacted. My hat goes off to Coach Bogan and to his future success, it's been a blessing to watch you lead and teach the young men of Maranatha. Thank you, Coach."
Two-time CIF champ South Hills QB Philip Guerrero: "He coached with energy and intensity, but never lost his head and always treated his players, coaches, refs and opponents with respect. Our commitment, as players, to him and his program wasn't based on fear, but based on his work ethic, his track record, his proven strategies, and genuine passion for the positive development of all his players. He had a knack for pushing our team, collectively and individually, just enough to bring out our best without burning us out. I feel that balance is one of the main reasons he has and continues to win. It was a pleasure playing for him and I wish him the best, although if Bonita plays South Hills, I have to go with the Dawgs :-)"
Former South Hills wide receiver, current MLB player Daniel Robertson: "Coach Bogan married me and my wife. They (the coaches) had such an impact on me as a young kid and made us understand what was important as we grew older. He always made sure I didn't settle for my least effort and pushed me to be better. I coach football in the offseason because I want to keep educating and give the knowledge back from the great men I had the honor of being coached by."
Steve Bogan's Career Record:
199-86-1 overall
34-16 in the postseason
Steve Bogan's Record at Maranatha:
2017: 6-5
2016: 3-6-1
2015: 7-5
2014: 11-1