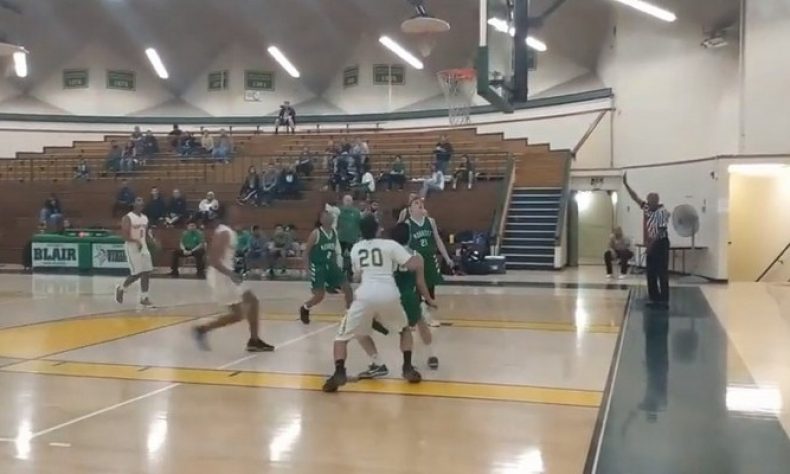 By Brian Reed-Baiotto, Sports Editor It would be human for Blair to have a letdown after defeating perennial Rio Hondo League power La Canada last Friday. That victory put Blair in a position to control its own destiny. If the Vikings won their last four games, they would not only earn a share of […]

By Brian Reed-Baiotto, Sports Editor
It would be human for Blair to have a letdown after defeating perennial Rio Hondo League power La Canada last Friday.
That victory put Blair in a position to control its own destiny.
If the Vikings won their last four games, they would not only earn a share of the Rio Hondo League championship, they would also enter the CIF-SS playoffs as the No. 1 seed from their league, because of their 1-point differential in a pair of games with the Spartans.
So, step one was making sure it beat visiting Monrovia on Wednesday night, and against a Wildcats team that stayed within 5 points of the Vikings back on January 10.
This game, however, would have almost zero drama.
Dez Washington led all scorers with 26 points, 11 rebounds and 4 assists in Blair's 79-53 victory over Monrovia.
The only thing that didn't go Blair's way was when their star guard Dallas Murrday was accidentally elbowed above his eye in the first quarter and blood began to gush down his face and all over the floor.
The game was delayed about 10 minutes as they cleaned up the floor.
Once they got back to action, though, Blair was too athletic and skilled for Monrovia to hang with.
The Wildcats got 13 points from Rory Hare and Christian De Guzman added 12 for Monrovia.
Chris Bagby really picked up his play with 9 points, 9 rebounds and 5 assists.
Favour Ihiaso added 14 points, 4 rebounds and 4 assists.
Don Guyton finished with 13 points, 5 rebounds and 2 assists.
Zavior Smith had 8 points and Arvynn Shirali 7 for the Vikings.
Blair will face Temple City on Friday at 7.
Box Score:
M: 14-12-17-9-(53)
B: 24-21-16-18-(79)
Records:
Monrovia (11-14, 2-5); Blair (18-6, 6-1)