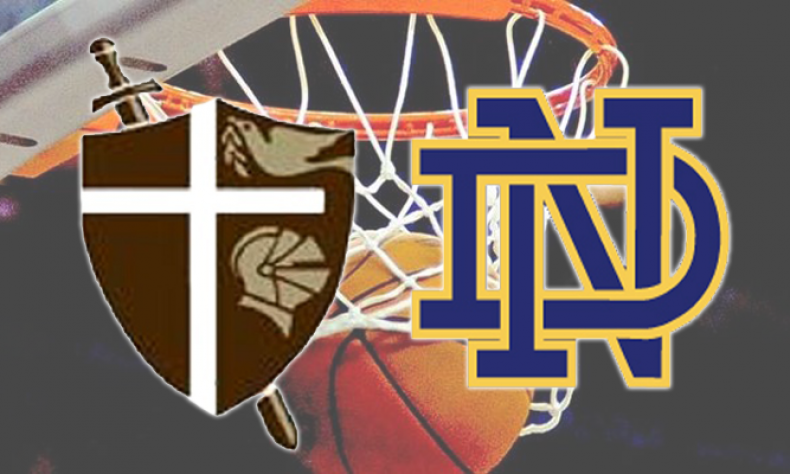 From STAFF REPORTS Senior night will be a memorable one for the Notre Dame (of Sherman Oaks) basketball program. The Knights collectively hit 15 baskets from beyond the 3-point arc and cruised to an 80-57 victory in the Mission League and season finale for both schools. Both Notre Dame and St. Francis finished 2-10 in […]
From STAFF REPORTS
Senior night will be a memorable one for the Notre Dame (of Sherman Oaks) basketball program.
The Knights collectively hit 15 baskets from beyond the 3-point arc and cruised to an 80-57 victory in the Mission League and season finale for both schools.
Both Notre Dame and St. Francis finished 2-10 in Mission League play, and they split the season series, with each team winning on their own home court.
Ziaire Williams led all scorers with 30 points, including five 3-point baskets.
Julian Rishwain connected on six 3-pointers for the Knights and finished with 22 points.
Andre Henry paced St. Francis with 15 points and Dennis Flowers III had 13.
Javon Jones and Lucas Shin both connected on a pair of 3-point buckets for the Golden Knights.
Jones finished with 8 points and Shin had 7.
Box Score:
SF: 21-10-12-14-(57)
ND: 17-17-25-21-(80)
St. Francis scoring: Andre Henry 15, Dennis Flowers III 13, Javon Jones 8, Matthew Molina 8, Lucas Shin 7, Greg Dulcich 3, Marcelino Martinez 3.
Notre Dame scoring: Ziaire Williams 30, Julian Rishwain 22, Theodore Parham 9, Jack Abunassar 7, Tyler Hawara 5, Max Moses 3, Jordan Fuller 2, Coltrane Goring 2.
Friday's Mission League Scores:
Crespi 72, Harvard-Westlake 63
Alemany 64, Chaminade 53
Notre Dame 80, St. Francis 57
2017-18 Mission League Final Standings:
Crespi (25-2, 12-0)
Harvard-Westlake (21-5, 9-3)
Alemany (18-9, 8-4)
Loyola (13-12, 5-7)
Chaminade (12-16, 4-8)
Notre Dame (15-11, 2-10)
St. Francis (13-14, 2-10)