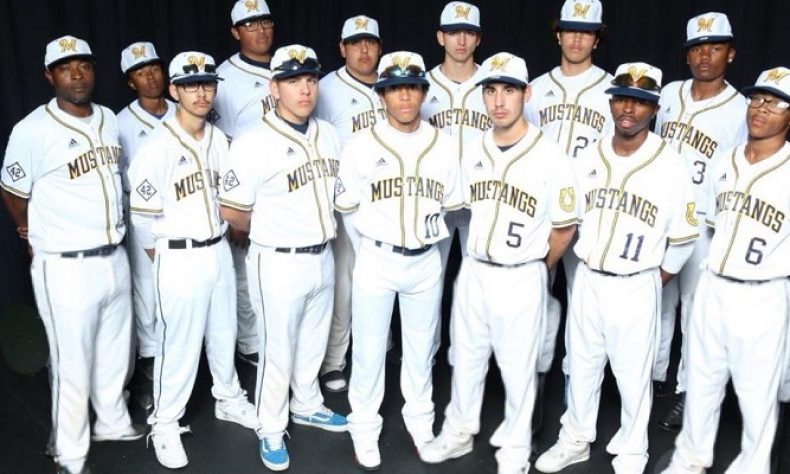 By BRIAN REED-BAIOTTO, Sports Editor If the Muir baseball program reaches or surpasses expectations, it's going to be a fun year for the Harrison family. Adonis Harrison took over the reigns for the program and his sons, Aryonis and Amaris, are key components to the Mustangs' success. Aryonis is a junior, and he led Muir […]
By BRIAN REED-BAIOTTO, Sports Editor
If the Muir baseball program reaches or surpasses expectations, it's going to be a fun year for the Harrison family.
Adonis Harrison took over the reigns for the program and his sons, Aryonis and Amaris, are key components to the Mustangs' success.
Aryonis is a junior, and he led Muir last season in three key areas.
His .361 average, 30 hits and 28 runs scored were all tops for the sixth-place (in Pacific League) Mustangs.
Aryonis will also contribute on the mound when his father needs him and he'll also use his speed on the base path to create havoc for opponents.
His younger brother, Amaris, a sophomore, is breaking out of Aryonis' shadow and making a name for himself with his quick start in the 2018 season.
Amaris is hitting .333 so far through five games and he'll be the Mustangs' shortstop this season.
Valente Vera will serve as their ace on the mound.
Vera tied Jesse Zarazua last season with a team best 5 victories on the hill.
Vera also hit .306 last year with 22 hits and 10 RBIs.
Keyshawn Spicer, David Solis and Ely Resendiz are key returners for Muir.
Brian Love came off the football field, where he served as the team's quarterback and he's already making an impact on the mound.
Love, who will come out of the bullpen, has yet to give up a run in 8 innings thus far, and the junior has struck out 7 batters over that time.
Muir is off to a 3-2-1 mark and they've shown glimmers of hope that they're ready to take their program to the next level.
One huge key that needs to be addressed within the program is the number of errors the Mustangs' defense has committed so far.
But on the other end of the spectrum, Harrison's program is led by a number of talented underclassmen.
They are certainly laying the tracks for a change in expectations and are becoming a program that opponents can no longer afford to look past.
With a solid new coach, and a core of young, but ready athletes, Muir could certainly surprise many with the upward direction of their program.
Quotable:
Muir coach Adonis Harrison: "(The players mentioned above) are the core of our team and they will make everything go. Valente Vera is the ace on our pitching staff and Aryonis Harrison is the spark plug. Ely Resensiz is a legit power threat and sophomore Amaris Harrison should be one of the best shortstops in the area."
Muir junior Aryonis Harrison: "I'm really excited about the upcoming year. We have some good baseball player, and many are experienced varsity players, so we expect to be a better baseball team this year. We plan on playing one game at a time and execute when we have to. Muir hasn't been to the playoffs in 30 years. If we play to our capability, we might be able to break that terrible streak."
Muir's Recent Records By Year:
2018: (3-2-1)
2017: (12-14 overall, 5-9, in Pacific League)
2016: (5-20, 2-12)
2015: (0-22, 0-14)
2014: (1-21, 0-14)