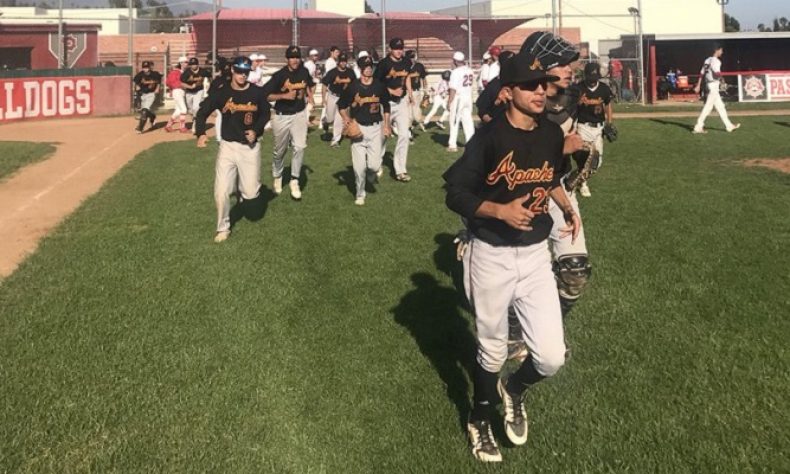 From STAFF REPORTS Arcadia remained perfect in 2018 with an 8-0 victory Thursday afternoon at Pasadena High School. The Apaches improved to 23-0 this season, including a 12-0 mark in Pacific League play, and they swept the two-game series with the Bulldogs by a combined score of 20-0. Chris Wilson went the first five innings […]
From STAFF REPORTS
Arcadia remained perfect in 2018 with an 8-0 victory Thursday afternoon at Pasadena High School.
The Apaches improved to 23-0 this season, including a 12-0 mark in Pacific League play, and they swept the two-game series with the Bulldogs by a combined score of 20-0.
Chris Wilson went the first five innings on the mound for the Apaches.
The sophomore right hander allowed just three hits, didn't walk a batter and struck out three batters.
Wilson improved to to 7-0 and his ERA is now 0.88.
Chase Pedersen finished on the mound for the Apaches, and he didn't allow a hit or run and he walked one batter over the final two innings.
Alvie Castro wasn't fully healthy, but the PHS ace gave it his best and allowed six runs (four earned) over five innings.
Castro surrendered six hits, walked three and struck out two batters.
It was just Castro's (6-2, 0.95 ERA) second loss of the season.
Jacob Green allowed two runs on four hits over the final two innings for PHS, including a two-run home run off the bat of Tyus Santa Anna.
Arcadia out-hit PHS 10-3.
Jacob Green, Adrian DePasquale and Aaron Corder had the three PHS hits on Thursday.
Chase Pedersen went 3 for 3 for Arcadia, scored a run and drove in another.
Dustin Allen had two hits and a run scored and Dominick Tello doubled, tripled and had two RBIs.
Santa Anna scored twice and drove in a pair of runs along with his home run off of Green.
AHS and Crescenta Valley (20-4, 11-0) will meet up for a pair of games next week to determine the Pacific League championship.
PHS will face off at Muir on Tuesday and then the Mustangs will travel to PHS on Friday with the third spot in the Pacific League at stake.
If Muir finishes off their a sweep of Burbank Friday at Muir, they would hold a one-game lead over PHS with those final two games to play in the regular season next week.
Box Score:
AHS: 3-0-0-3-0-0-2-(8)
PHS: 0-0-0-0-0-0-0-(0)
Win: Chris Wilson (7-0)
Loss: Alvie Castro (6-2)
HR: Tyus Santa Anna (A)
3B: Dominick Tello (A)
2B: Dominick Tello (A), Jacob Lopez (A)
Records: Arcadia (23-0, 12-0); Pasadena (15-10, 6-6)