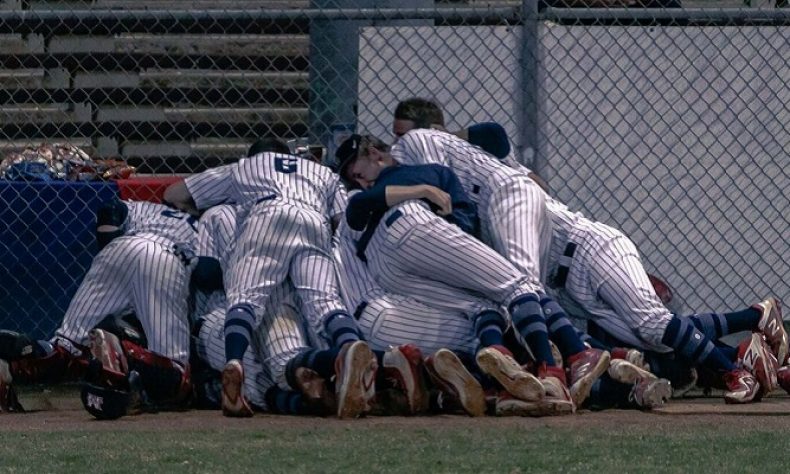 By BRIAN REED-BAIOTTO, Sports Editor | Photography by Dan Netz You may wonder by the headline, 'didn't Dawson Netz pitch Tuesday?' Yes, he did, and he did very well. He just wasn't in on the decision. Netz went seven scoreless and his own CIF state record now stands at 55 consecutive innings after Tuesday night's […]
By BRIAN REED-BAIOTTO, Sports Editor | Photography by Dan Netz
You may wonder by the headline, 'didn't Dawson Netz pitch Tuesday?'
Yes, he did, and he did very well.
He just wasn't in on the decision.
Netz went seven scoreless and his own CIF state record now stands at 55 consecutive innings after Tuesday night's effort.
Netz didn't necessarily have his best stuff, but no one will out-compete this junior, who walked two and struck out 10.
Netz allowed four hits and dodged runners on base in five of the seven innings, including a bases-loaded and one out scenario in the top of the seventh inning.
With the game still 0-0, Netz didn't blink and got the tenth of his 10 strikeouts by getting Mathew Vilches swinging, and that brought Danny Veloz to the plate with that potential go-ahead run still standing at third base.
Veloz, who went 0 for 4 from the leadoff spot, including three strikeouts, hit a ground ball to third that looked headed for left field.
But Marco Martinez fielded the ball over his left shoulder.
After Martinez failed on his attempt to tag the runner going from second to third, the star senior didn't panic.
The USC commit, instead, regrouped and zipped the ball to Max Blessinger, who had his foot planted on the second-base bag and lunging forward to receive the ball just in time.
It took everything to go right for Maranatha to escape that inning without a blemish and the reaction from the MHS dugout and from their unflappable pitcher said it all, as they pumped their fists in both excitement and relief.
Eric Oseguera, the Crusaders' pitcher, who was outstanding all game, got through his first seven innings unscathed and that brought on Max Blessinger to take over on the mound to start the top of the eighth inning for MHS.
Blessinger allowed a first batter base hit.
But the junior stud worked his way out of a potential jam, and then Blessinger got on base to begin the bottom of the eighth.
Now, on second base and with one out, Marco Martinez came to the plate and hit a line drive that partially went off the Village Christian shortstop's glove and out into left field.
Blessinger didn't need to, but he slid into home plate with the game and league-clinching run.
His teammates chased Martinez all the way from the first base area to the Maranatha side of the stands, and it all ended in about a 20-person dogpile.
Oseguera was the tough-luck loser, after going seven-plus innings and allowing one run on six hits.
Oseguera walked just one batter and struck out five.
In their two games this season, Maranatha has defeated VC by scores of 3-0 and now 1-0.
Before he left after the seventh inning, Netz' 10 strikeouts included three each of Danny Veloz, Nick Walker and Kenny Aceves.
Nick Iverson went 2 for 4 for Maranatha and Brock Vradenburg, Sal Tabullo, Nico Khoury, Blessinger and Martinez had one hit each.
Two unsung heroes from both teams were catchers Nick Walker of Village Christian and Ethan Firestone of Maranatha.
Walker threw out a would-be base stealer for the Minutemen and held Oseguera together all game, and Firestone threw two Crusaders' runners out trying to steal second and he blocked a curve ball in the dirt with a runner on third base to save a run.
This is Maranatha's first outright Olympic League title since 2013 and they've now won 14 consecutive games dating back to April 6.
Not only has Netz rewritten the record book on this run, the MHS staff now has eight consecutive shutouts and that covers the last 54 innings.
The Crusaders and Minutemen will battle one last time this Thursday at 4 in Sun Valley, and then both will wait for their CIF pairings to be released at the end of this weekend.
Box Score:
VC: 0-0-0-0-0-0-0-0-(0)
M: 0-0-0-0-0-0-0-1-(1)
Win: Max Blessinger
Loss: Eric Oseguera
2B: Dawson Netz (M), Ricky Perez (VC)
Records: Village Christian (19-5, 8-3); Maranatha (21-4, 11-0)