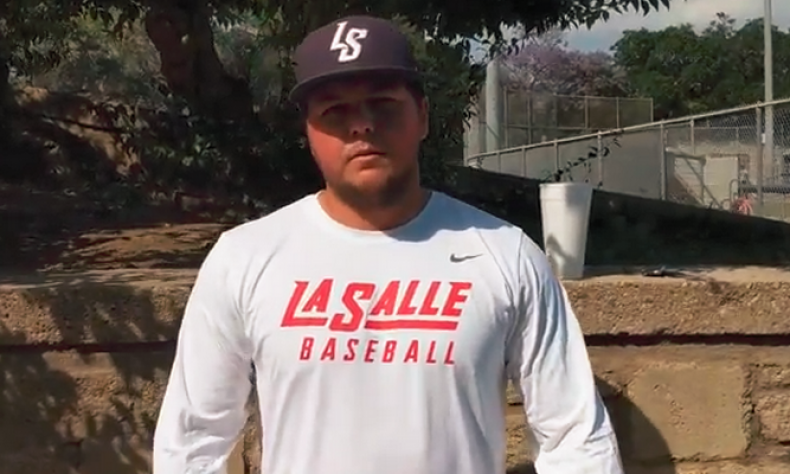 By Brian Reed-Baiotto, Sports Editor Maranatha and La Salle have represented their baseball programs, their schools and the city of Pasadena incredibly well, and they will face off Saturday morning at 10 a.m. at Cal State Fullerton to decide the CIF-SS Division 3 championship. There are zero reasons to believe that La Salle doesn't […]
By Brian Reed-Baiotto, Sports Editor
Maranatha and La Salle have represented their baseball programs, their schools and the city of Pasadena incredibly well, and they will face off Saturday morning at 10 a.m. at Cal State Fullerton to decide the CIF-SS Division 3 championship.
There are zero reasons to believe that La Salle doesn't have just as good a chance as Maranatha to leave CSUF as CIF champions in the all-Pasadena title game.
The Lancers, though, have acknowledged they enter the biggest stage as the underdogs, and they both enjoy and embrace that role.
In fact, as they have said throughout the playoffs, people outside of their dugout didn't expect much in the postseason from the 2018 Lancers.
Maranatha's current 19-game win streak is one more victory than La Salle (18-10) has in all of 2018.
The Minutemen are the No. 1 seed and La Salle in unranked and unseeded.
Both teams hold advantages over the other in certain categories.
MHS has a clear advantage offensively, as eight of the nine Maranatha starters are above the .300 mark, and they have a 47-point advantage in team batting.
And as crazy as this might sound considering Maranatha's staff has been without question the area's best unit all year, the argument could be made that for this one game, and knowing who is available and for how long, that La Salle has a slight edge at this position.
The first reason being that the game's, area and section's best pitcher, Maranatha's Dawson Netz (11-0, 0.27 ERA) is coming off a two-hit shutout at Redlands on Tuesday, which means the MHS star junior is eligible to throw just three innings Saturday because of the 10-inning per week rule for pitchers.
On the other side, La Salle's ace, Zane Lindeman (6-2, 0.90 ERA) is rested and ready to go.
Lindeman is one of the area's premier big-game pitchers and that's over a three-year sample in which he's gone 23-7 over his career.
More importantly, though, the 6-foot-4 senior is at his best in the biggest games.
Lindeman is 3-0 (wins over Santa Monica, Charter Oak and Temescal Canyon) in the playoffs over the past few years, including two shutouts, and he's gone the distance in each of the three, and allowed just three total runs over those 21 innings on the mound.
Two of those three postseason victories came on the road, and he enters Saturday's game with a 0.90 ERA, and is coming off his 6-0 shutout at Temescal Canyon last Friday on just 69 pitches.
If Lindeman struggles, both Jeff Daley (5-2, 3 saves, 1.90 ERA) and Landon Smith (5-1, 1.75 ERA) will both be ready.
Maranatha has a trio of juniors who could get the ball from coach Matt Shupper.
And while Shupper played his cards very close to the vest, our best guess is that Will Downing is going to get the ball to start the game.
Downing is 3-0 with a 0.23 ERA, and he went nearly 30 innings before giving up his first run of the 2018 season.
Max Blessinger (4-0, 1.75 ERA) and Charles Acker (3-1, 3.00 ERA) are also primed and ready if and when they are needed.
If the Minutemen can stay close or take a lead near the fourth inning, look at any time for Dawson Netz to take the mound and close out the championship.
But as far as the others go, Downing has allowed just two earned runs in 31 innings this season, an has walked seven and struck out 31.
Blessinger has gone 16 innings, walked seven and fanned 16, and Acker has 18 2/3 innings to his credit with 11 walks and 18 strikeouts.
Maranatha's two superstars, Max Blessinger and Marco Martinez, who hit out of the No. 1 and No. 3 spots in the lineup, have a combined average of .456 with 82 hits, 64 runs, 20 doubles and 51 RBIs.
Blessinger leads the area with his .490 average and 50 hits. He also has 12 doubles, four triples and 31 stolen bases.
Martinez is batting .421 with 32 hits, 27 runs, 28 RBIs, 8 doubles, two triples and four home runs.
La Salle counters with Ethan Patrick, who is truly a ball player's ball player.
EP is hitting over the .445 mark with 48 hits and he's collected an area-best 10 hits in the postseason this year.
Patrick is coming off a fifth-inning experience in the 3-2 victory over Long Beach Wilson Tuesday that is unlikely to be duplicated.
With potentially seven outs to go in his prep career and trailing 2-0 with two on and two outs, the Loyola Marymount commit singled sharply to right field, which looked at first glance to set up a bases loaded scenario for sophomore Mark Daley.
When the Bruins' right fielder misplayed the ball and it rolled all the way to the fence, though, both Johnathan Wong and Blake Hardy scored, and while the majority of La Salle's players were celebrating with the pair that had just unexpectedly tied the game, EP wasn't done yet.
He had already sprinted 270 feet at full speed when he looked up and saw first-year coach Eddie McKiernan waving him home.
Patrick dove head first into the back corner of the plate just after the home plate umpire was pushing Lancers players back from the area. It set off the most dramatic of changes and crowd reactions.
And as well as Patrick is playing, the case for Brennen Mace being the area's most improved and under-appreciated player could easily be made.
Mace is beloved among his teammates, especially his pitchers, who feel they can throw any pitch in any count or situation, because they have their reliable buddy backing them up.
His ascension at the plate, however, is the most dramatic improvement of his game.
In the last three years, Mace has seen his batting average go from .071 to .141 to this year's .435 average with nearly 30 hits, one of which got the Lancers started on this magical four-game run.
His three-run, first-inning home run at Charter Oak in the first round of the playoffs really set the tone for this program.
Maranatha, aside from Blessinger and Martinez, have gotten solid contributions from Casey Popham (.367 batting average), Dawson Netz (.365), Sal Tabullo (.345), Brock Vradenburg (.329), Ben Guess (.321) and Nick Iverson (.319).
Back to La Salle and their offensive production for a second.
After Patrick and Mace, the Lancers offensive numbers drop off significantly, but Mark Daley (.340) and Henry Kavanaugh (.335) have picked up their numbers in the postseason.
The Lancers are very senior heavy and with Maranatha's success and experience, neither of these two programs will be intimidated by the sights and sounds at Cal State Fullerton.
For those of us that respect both sides, including the players and coaches, all we can hope for is that both teams play their best baseball and the program that executes best and most often will leave knowing they earned a spot in the permanent history books.
Regardless of the outcome, however, the entire area is proud of the way both teams have acquitted themselves through the most grueling part of the season.
First pitch will be at 10 a.m. and Maranatha has been designated the game's home team.
The last thing we wanted to do was to reach out to a few former baseball players at each school or current prominent athletes to allow them to send direct messages in support of their school.
Quotable:
Maranatha basketball player Chris Austin: "I hope you guys go out there and play your hearts out. I want them to know that all of 'Natha Nation' will be behind them."
Maranatha quarterback Kwon Peterson: "I hope the team goes out with clear minds, not thinking about the magnitude of the game and all the buzz surrounding it. I hope they have fun out there and do what it takes to bring it home for Natha."
Former Maranatha baseball player Eddie Lopez: "Hey guys, it's Eddie, I'd just like to say how proud I am to be a Maranatha alum right now. Coming into a program that wasn't taken seriously for a long time and leaving it with heads starting to turn was all we could ask for. That's all because of you, and all the countless hours put in morning and night. You all have paved a way for Maranatha baseball to succeed for the upcoming years. And win or lose, you couldn't have made our school, the coaches or the city of Pasadena more proud."
Former La Salle baseball player Kyle Cuellar: "Congratulations to the '18 Lancers club on reaching the title game. Ryan and I have followed you guys all season and all post-season. Many of you guys we have played with when we were still at La Salle, and to see how much you guys have grown and matured over the years has been amazing to watch. One word comes to mind when you guys take that field tomorrow and that's COMPETE. Compete for 7 innings or however long it takes, pitch by pitch, inning by inning. Use your experience to your advantage, enjoy it, and have fun. Good luck all the way from the Minneapolis! Go Lancers!"
Former La Salle baseball player Ryan Garcia: "First off, I want to say congrats on the season so far and making it to your title game. You guys have done a great job playing together as a TEAM and it's cool to see you guys grow and have success as upperclassmen now. Kyle and I are somewhat in the same position as you guys and are competing for a national title. Rooting for you guys all the way from Minnesota. Get it done, fellas."
Former La Salle baseball player Sammy Martinez: "What's up boys? You did it. It doesn't get any bigger than this. CIF finals, baby! Go out there, do what you do, and grind it out until the end. After it's all said and done, hopefully you guys come out as champions. You know I wish I could be out there beside you guys, but I'm going to be there with the rest of the boys in the stands and rooting you on! Let's get it. Goon heads and dirt dogs for life!"
CIF Division 3 Scores:
May 18: La Salle 5, Charter Oak 3
May 18: Maranatha 10, Palos Verdes 2
May 22: La Salle 1, Temecula Valley 0
May 22: Maranatha 4, Grace Brethren 3
May 24: La Salle 6, Temescal Canyon 0
May 25: Maranatha 11, Arlington 2
May 29: La Salle 3, Long Beach Wilson 2
May 29: Maranatha 4, Redlands 0
June 2: Maranatha vs La Salle at Cal State Fullerton at 10
a.m.
By The Numbers:
Common Opponent:
Feb 28: Charter Oak 4, Maranatha 0
May 18: La Salle 5, Charter Oak 3
League Finish:
Maranatha (12-0), first in Olympic League
La Salle (8-4), second in Del Rey League
Current Win Streak:
Maranatha: 19
La Salle: 8
Team Batting Average:
Maranatha: .343
La Salle: .296
Team ERA:
Maranatha: 1.25
La Salle: 1.96
Runs Scored:
Maranatha: 215
La Salle: 119
Runs Allowed:
Maranatha: 54
La Salle: 75
Player With Most Hits:
Maranatha: Max Blessinger (50)
La Salle: Ethan Patrick (48)
Pitcher With Lowest ERA:
Maranatha: Dawson Netz (0.27)
La Salle: Zane Lindeman (0.90)
Projected Starting Lineups:
La Salle:
1- Henry Kavanaugh, 2B
2- Ethan Patrick, SS
3- Mark Daley, CF
4- Brennen Mace, C
5- James Barnard, DH
6- Victor Scalzo, 3B
7- Johnathan Wong, RF
8- Noah Zate, LF
9- Peter Thorsen, 1B
Pitchers:
Zane Lindeman (RHP)
Jeff Daley (RHP)
Landon Smith (RHP)
Maranatha:
1- Max Blessinger, 2B
2- Nick Iverson, SS
3- Marco Martinez, 3B
4- Brock Vradenburg, 1B
5- Sal Tabullo, LF
6- Dawson Netz
7- Casey Popham, DH
8- Dante Campione, CF
9- Ben Guess, RF
Pitchers:
Will Downing (RHP)
Dawson Netz (RHP)
Max Blessinger (RHP)
Charles Acker (LHP)
Casey Popham (RHP)