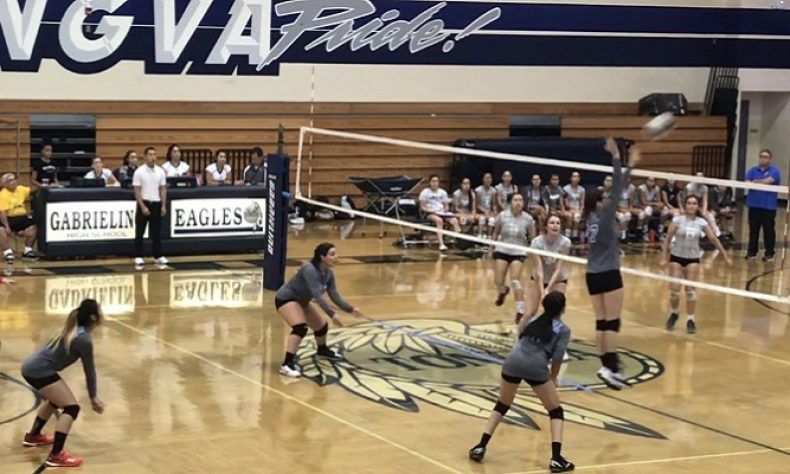 From STAFF REPORTS Gabrielino looked every bit the Mission League champs they are. In a battle of 'the Eagles' Gabrielino got out early and never let Marshall into the match. They earned the 25-6, 25-1 and 25-15 sweep at Marshall. Senior outside hitter Risejah Velasco with 4 kills and 6 digs. All of Velasco's kills […]
From STAFF REPORTS
Gabrielino looked every bit the Mission League champs they are.
In a battle of 'the Eagles' Gabrielino got out early and never let Marshall into the match.
They earned the 25-6, 25-1 and 25-15 sweep at Marshall.
Senior outside hitter Risejah Velasco with 4 kills and 6 digs.
All of Velasco's kills came in the third set.
Sophomore setter Malia Wilson finished with 7 digs and 5 assists.
Sophomore outside hitter Sophia Hatum had 4 digs.
Sophomore opposite hitter Bora Lim ended with 3 assists and 3 digs.
Marshall will host Rosemead on Friday at 3:15 in a Mission League contest.
Quotable:
Marshall coach Sang Lee: "Although we both compete in the Mission Valley League, Gabrielino plays at a level that is in a league of its own. They are the gold standard of our league. What Coach Chau has done there over the years is what we hope to develop and emulate. Their volleyball program is systemized and disciplined.
We played better in the third set. We got a little more confidence after we kept the rallies going a bit. Volleyball is like baseball. If you can't hit a curve ball, you won't score any runs. We couldn't pass their serves, so all the other elements of the game didn't come into play. They serve very tough, and were incapable of passing them for long streaks."
Records: Gabrielino (13-5, 4-0); Marshall (7-8, 2-2)