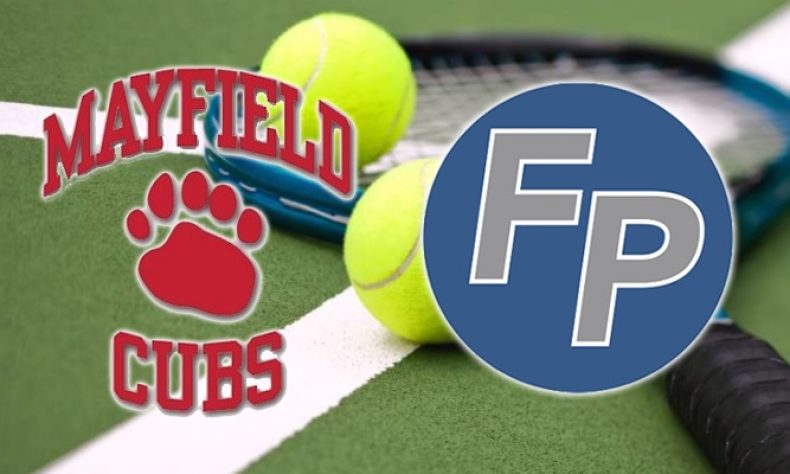 From STAFF REPORTS As solid as Mayfield's top player, Lauren Panajotovic is, for much of the season, it's been the Cubs' doubles team that has led the way. Panajotovic did cruise as usual, and won all three matches by scores of 6-1, 6-1 and 6-0, respectively. But their doubles teams went 7-2 on Tuesday to […]
From STAFF REPORTS
As solid as Mayfield's top player, Lauren Panajotovic is, for much of the season, it's been the Cubs' doubles team that has led the way.
Panajotovic did cruise as usual, and won all three matches by scores of 6-1, 6-1 and 6-0, respectively.
But their doubles teams went 7-2 on Tuesday to lead Mayfield to a 12-6 Prep League victory over Flintridge Prep.
Ashlinn and Elise Kingston (No. 1 doubles team) went 3-0 and lost just two games of 20 played.
Alexa Saigh and Rebecca Leiva, who represent the Cubs No. 2 doubles team, also went 3-0 and did so by scores of 6-3, 6-0 and 6-2.
Sofia Mireles won two (1-6, 6-2, 6-1) of her three matches in the No. 2 spot of the Mayfield singles trio.
Flintridge Prep's Maya Khurana, the Rebels' top singles player, was the only player or (doubles) team to win more than one match.
Khurana dropped her first match to Panajotovic, but then she defeated Sofia Mireles, 6-1, and Sami Kennedy, 6-0.
Records: Flintridge Prep (4-4 overall, 1-1 in league); Mayfield (5-2, 2-1)