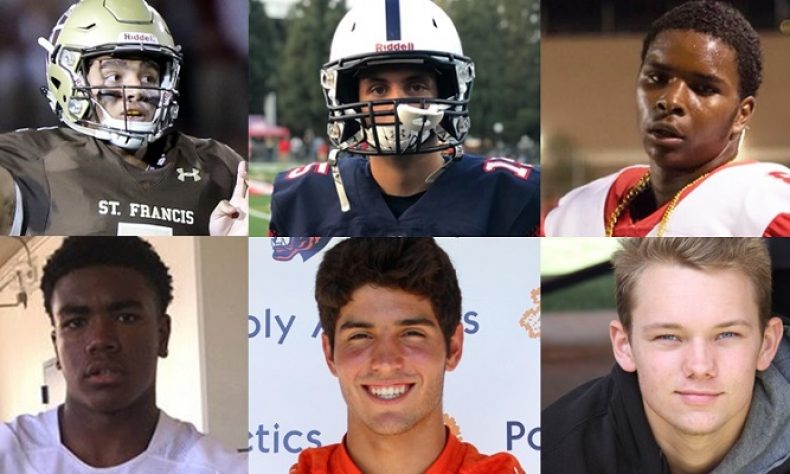 L-R: Darius Perrantes, Isaac Fields, Mekhi Fox, CJ Rettig, Franco Alonso, Chuck Shull By BRIAN REED-BAIOTTO, Sports Editor It's already 'week seven' of the 2018 football season and Maranatha will open Olympic League play tonight. The Minutemen (3-3) are coming off their bye week and will host Cerritos Valley Christian (2-5 overall, 0-1 in league). […]
L-R: Darius Perrantes, Isaac Fields, Mekhi Fox, CJ Rettig, Franco Alonso, Chuck Shull
By BRIAN REED-BAIOTTO, Sports Editor
It's already 'week seven' of the 2018 football season and Maranatha will open Olympic League play tonight.
The Minutemen (3-3) are coming off their bye week and will host Cerritos Valley Christian (2-5 overall, 0-1 in league).
The Defenders enter the contest having lost four of its last five games, including a league-opening defeat, 25-10, against undefeated Heritage Christian (7-0) last weekend.
Valley Christian has been outscored 239-125 through seven games thus far.
Maranatha fell, 42-9, on September 21, before taking the week off and nothing seems to rejuvenate a football program late in the season quite like the opening of league.
For those not fully aware, it's where a program finishes in league that determines where or if they make the CIF-SS playoffs after their 10-game regular season schedule is played out.
First-year coach and former NFL star LaVar Arrington heads into Friday night's game optimistic and he feels like his program has made strides each week towards what they hope is a run at the Olympic League title, and obviously a playoff berth.
Maranatha quarterback Enrique Garza has made several steps forward since some early-season struggles, and Garza seems to have the confidence of not only his coaches, but his teammates as well.
Garza has completed 72 of 119 passes for 1,151 yards. He's thrown for 17 touchdowns and has only been picked off once all season.
The MHS rushing game has scored just two total touchdowns all year.
Zack McClendon, Jacob Moreno and James Smith have combined to gain 515 of the 569 rushing yards for the Minutemen.
Isaac Fields (22 catches, 378 yards, 5 TD's), Jack Goodman (38 receptions, 355 yards, one TD), Zack McClendon (18 catches, 339 yards, team-high 6 TD's) and Jacob Moreno (22 catches, 220 yards, one TD) have been Garza's top targets all season.
CVC quarterback Hayden Ericks has just a 45-percent completion ratio, has thrown for 756 yards, including 6 TD's and has been picked off 8 times.
Curtis Walhof anchors the Defenders' ground game with 676 yards rushing and has accounted for 5 of the 6 CVC rushing TD's.
He averages just three yards shy of 100 yards per game.
Luca Caldarella leads the CVC receiving corps in receptions (14), yards (222) and TD's (3).
"I'm pleased with our team's continued development. It's a new staff with a new mentality, so it's been a learning curve and a culture shift," Maranatha coach LaVar Arrington said. "(Valley Christian) is stout up front and have a balanced play calling. We will need to be strong up front on both sides of the ball and play disciplined and spirited football."
St. Francis (4-2) will host Paraclete (2-5) tonight in the Golden Knights' final nonleague game of 2018.
SF goes into the match up on a very high note.
They defeated an explosive (and ranked) Mayfair program, 51-41, last Friday at La Mirada High School.
What pleases those in the program most is that quarterback Darius Perrantes, running backs Kevin Armstead and Max Garrison, and receivers Tanner Tomko, Bryson Reeves and Jacob Buntich all seem to be on the same page.
Paraclete's Nicholas Wyatt has 642 rushing yards, seven of the Spirits' 10 TD's on the ground and he averages 130 yards per game.
Paraclete has lost three of their last four games, including last week's 28-27 setback to Cornerstone Christian of San Antonio, Texas.
Muir (5-1 overall, 2-1 in league) begins the final regular season push tonight when they host Burroughs in a Pacific League showdown.
The Mustangs did what was expected of them the past two weeks, and blew out Hoover and Glendale by a combined margin of 118-6.
Burroughs (1-5, 1-2) enters tonight's game in fourth place, but they held the Crescenta Valley offense to its second lowest score all season (28 points).
Muir isn't making more out of what it means to blow out the bottom rung of the Pacific League over the past two weeks.
But one thing that they can't overstate is that the Mustangs' offense is getting its best all-around and consistent production from their quarterbacks, running backs and receivers.
Pasadena (3-3, 1-2) needs and will defeat Hoover tonight to even their Pacific League record at 2-2.
It's never politically correct to assume victory before the opening kickoff, but Hoover is currently on a five-game losing streak and they've been outscored by a combined total of 253-67 thus far.
In the Tornadoes three league losses to Burbank, Muir and Arcadia over the past three weeks, they've been outscored 158-40.
One thing to watch for tonight is how much total yardage will PHS freshman phenom Mekhi Fox gather.
And whether Bulldogs' quarterback Andreas Solling will surpass the 300 yards passing mark for the first time in his prep career.
La Salle (0-7, 0-1) has much to be optimistic about tonight.
The Lancers face a St. Anthony (1-6, 0-1) program that is going through a challenging and rebuilding year.
It's La Salle's best and last chance many believe to win their first game of 2018.
So far, La Salle has been outscored in their seven games by a total of 339-40. If the Lancers break through tonight, it will undoubtedly mean that senior quarterback CJ Rettig had a big game.
St. Anthony has scored 131 points through seven games and surrendered 250.
Poly (4-1) will be back in action tonight after resting all of last week.
The Panthers travel to Calabasas to take on Viewpoint (1-5)
With a victory, Poly would head into next week's Prep League opener with Santa Clarita Christian on a high note.
Thus far, the Panthers have outscored their opponents, 162-62, through their first five games.