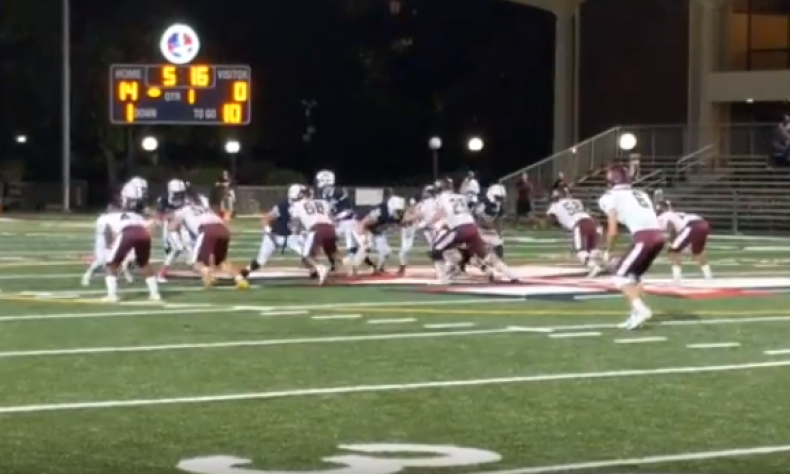 By Brian Reed-Baiotto, Sports Editor Within the first four minutes of Friday night's Olympic League opener, Zack McClendon had already, for all intents and purposes, put the game on ice. After forcing Valley Christian to punt in the game's opening series, Maranatha senior Zack McClendon took the first offensive play from scrimmage 35 yards for […]
By Brian Reed-Baiotto, Sports Editor
Within the first four minutes of Friday night's Olympic League opener, Zack McClendon had already, for all intents and purposes, put the game on ice.
After forcing Valley Christian to punt in the game's opening series, Maranatha senior Zack McClendon took the first offensive play from scrimmage 35 yards for a touchdown and the Minutemen would never look back.
But just to make sure, on the Defenders' second drive of the game, McClendon picked off the CVC quarterback and brought it back 25 yards for another score and the 14-0 lead.
Valley Christian was never able to mount a challenge on Friday.
In all, McClendon led all rushers with 125 yards on 17 carries, and he also converted a 2-point conversion run later in the game.
McClendon also had a 25-yard reception as well.
Sabien Rivera also had a huge impact in the victory.
Rivera had TD runs of 11 and 1 yards, and his sack of the Defenders' quarterback in the east end zone capped Maranatha's scoring on the night.
Jacob Moreno did what Jacob Moreno does.
In spite of being dinged up a bit, Moreno had an 11-yard TD run, he sacked the Defenders' quarterback for an 8-yard loss and recovered a fumble.
Enrique Garza is maturing at the game's most important position each week and the Maranatha quarterback managed the victory throughout.
Garza completed 7 of 10 passes for 105 yards and was picked once.
His coach and teammates say Garza has the work ethic, intellect and character to be someone who leads this program now and into the future.
Luis Saenz was another MHS player that left his mark in the win.
The senior picked off two passes on Friday night.
Not everything went as well as the players or first-year coach LaVar Arrington would have liked.
The Minutemen missed two extra-point attempts and had four or five delay-of-game calls go against them.
Maranatha will host Village Christian next Friday at 7.
Village Christian and Heritage Christian face off Saturday night at 7 in Granada Hills.
Scoring:
M: Zack McClendon 35 run (Jacob Kefalas kick)
M: Zack McClendon 25 Interception Return (Jacob Kefalas kick)
M: Jacob Moreno 13 run (kick failed)
M: Sabien Rivera 13 run (kick failed)
M: Sabien Rivera 1 run (Zack McClendon run)
M: Safety (Sabien Rivera sacked CVC quarterback in end zone.
Box Score:
CVC: 0-0-0-0-(0)
MHS: 26-0-8-2-(36)
Olympic League Scores:
Heritage Christian vs Village Christian (Saturday night at 7)
Maranatha 36, Valley Christian 0
Whittier Christian had a bye.
Olympic League Standings Through Friday's Games:
Heritage Christian (7-0 overall, 1-0 in league)
Village Christian (5-2, 1-0)
Maranatha (4-3, 1-0)
Whittier Christian (0-7, 0-1)
Valley Christian (2-6, 0-2)