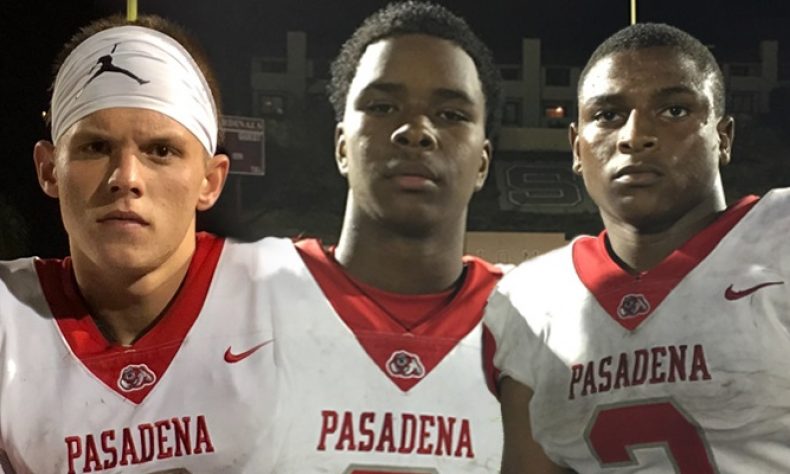 L-R: Andreas Solling, Mekhi Fox, Malachi Langley By BRIAN REED-BAIOTTO, Sports Editor Two weeks ago, the scenario I'm about to detail would have been considered improbable, if not impossible. That said, today, Pasadena is in a much different and better situation than maybe even they could have envisioned. PHS was on the outside looking in […]
L-R: Andreas Solling, Mekhi Fox, Malachi Langley
By BRIAN REED-BAIOTTO, Sports Editor
Two weeks ago, the scenario I'm about to detail would have been considered improbable, if not impossible.
That said, today, Pasadena is in a much different and better situation than maybe even they could have envisioned.
PHS was on the outside looking in at a playoff berth and now they're the only area program still alive in the quarterfinal round.
And if Pasadena leaves Beaumont Friday night with a second-round playoff victory, the Bulldogs would tie Muir and Poly for most area wins (7) in this 2018 football season.
It was a very unlikely path just to get to this point.
PHS ended their regular season with a 33-14 setback at the hands of their crosstown rivals (Muir) in the annual Turkey Tussle.
The loss dropped the Bulldogs into the fifth place slot among the eight-team Pacific League standings.
And when they heard Muir didn't get a CIF-SS at-large bid, despite a fourth-place finish and a 7-3 record for the Mustangs, PHS couldn't have liked their chances either.
But because they are in a different division, the Bulldogs got the good news on October 28 that they had received an at-large postseason bid.
PHS, however, had to take a 70-mile bus ride to face off with a Santa Paula team that finished the regular season with a 9-1 record, so it would probably be a one-and-out scenario, right?
Nope.
This team is used to being doubted, and they take pride in proving those same people wrong.
Pasadena used a 20-3, first-quarter surge to take control of last Friday's 33-22 victory at Santa Paula.
In fact, the Cardinals really never mustered much of a comeback.
That sets up tonight's (Friday) showdown with Beaumont (7-4), and this week, the drive is 75 miles from campus to campus.
The Cougars finished fourth in the Mountain Pass League and are coming off a 62-14 victory at Twentynine Palms last weekend in the first round.
Beaumont has used a pair of quarterbacks, Devin Dillard and Edward McCulloch, who have combined to go 178 of 239 for nearly 2,300 yards and 26 TD's.
The Cougars' rushing game is also a two-man show.
Rawleigh Holes and Sadiq Randolph have combined for 857 yards on 165 carries, and they've accounted for 14 of Beaumont's 19 rushing TD's.
Brennen Jenkyns is their stud receiver.
Jenkyns has caught 57 passes for 848 yards and 11 TD's.
But the Beaumont receiving corps also features 7 different players that have scored (caught) at least one TD.
The Cougars have outscored their opponents by a margin of 369-156 through their first 11 games.
Pasadena will look to exploit their speed and skill, which starts with freshman phenom, Mekhi Fox.
Fox has combined for 1,200 rushing and receiving yards and 13 total touchdowns.
He's scored in so many ways, and is the definition of a game-changer.
PHS will need a huge night from their freshman to not only beat the Cougars, but to set up a D-11 semifinal showdown with the Jurupa Hills-Western winner.
PHS hopes that senior quarterback Andreas Solling comes out strong early.
If the 6-foot-3 quarterback is able to stretch the Beaumont defense with passes downfield, it's going to work wonders for the PHS rushing attack.
Solling has thrown for 1,200 yards and 12 TD's, and has done so with a completion rate of 61 percent.
Jeremiah Hutchins has a team-best 60 receptions and his 562 receiving yards are second to Fox's 627 yards.
The PHS junior also has six receiving TD's through 11 games.
Malachi Langley is not just outstanding, the senior captain is playing his best football in crunch time.
Langley had three TD's and over 250 yards rushing last week at Santa Paula, and for the season, he has nearly 800 yards on the ground and 9 TD's.
William Martinez (67 tackles), Frank Coleman (66) and Nathaniel Morris (59) will anchor the PHS defense, and the Bulldogs' trio has combined for 10 sacks.
Friday's CIF-SS Division 11 Quarterfinal Schedule:
Pasadena (6-5) vs Beaumont (7-4)
Jurupa Hills (8-3) vs Western (9-2)
Pomona (8-3) vs Peninsula (7-4)
Hemet (7-4) vs Irvine (5-6)