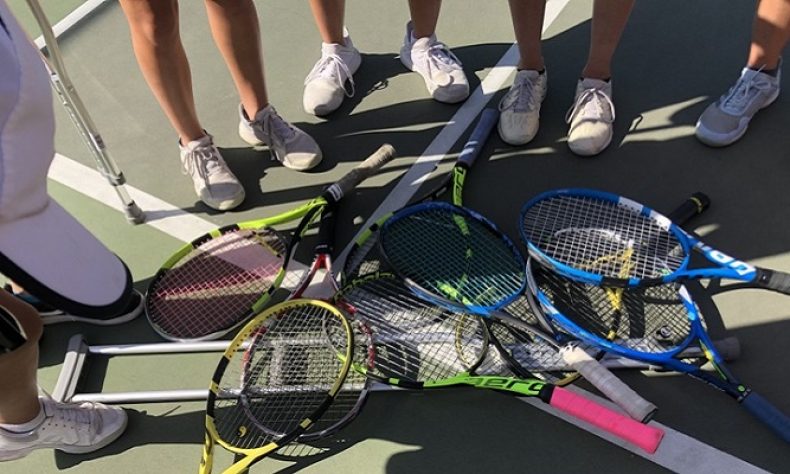 By ARTHUR HSIEH After a season-altering weekend, the 7-1 Lady Minutemen got back on the courts with their new-look line-up against the league-worst Warriors. Over the weekend, Maranatha's season was dealt severe blows as they lost captains and reigning league singles and doubles MVP's, Maddie Kane and Michael Wilkins, for the season. Kane broke her […]
By ARTHUR HSIEH
After a season-altering weekend, the 7-1 Lady Minutemen got back on the courts with their new-look line-up against the league-worst Warriors. Over the weekend, Maranatha's season was dealt severe blows as they lost captains and reigning league singles and doubles MVP's, Maddie Kane and Michael Wilkins, for the season. Kane broke her ankle in a freak accident while working out with the team on Friday, while Wilkins was named to the Tournament of Roses Royal Court on Monday, forcing her to leave the team. For both, their high school tennis careers are over. For the Lady Minutemen, their most potent singles and doubles weapons are gone, leaving the team to scramble and adjust. Along with a persistent wrist injury to Millie Garcia for most of the season, the team is down to the minimum nine players.
Today marked the debut of reserves of sophomore Fay Sheng and freshman Jeanne Yang as MHS's #3 doubles team. They went 2-1, going 6-2, 1-6, 6-3. Freshmen Bethany Ang and Stella Hsieh now must take up a greater role as they move up to the #2 doubles spot (6-3, 6-0, 6-1), while junior Georgia Wilder and sophomore Amanda Yee must now step up to anchor the doubles line up at #1 (6-2, 6-0, 6-0).
Senior Malena Smith moves up to #1 singles (6-0, 6-1, 6-0), while league doubles co-MVP (and Wilkins' partner), senior Aria Haver-Hill moves into the singles line-up (6-3, 6-0, 6-1), something she hasn't done since her freshman year. Rounding out singles iat #3 is freshman Audrey Loh (6-1, 6-0, 6-0), who herself has been battling injuries after getting hit in the face by two balls last week.
Though the loss of Kane and Wilkins cannot be gainsaid, the Lady Minutemen have resolved to grow closer as a team, to fight harder than ever, and to stay positive in the midst of adversity.
That resolve will be put to the test on Friday as they face D2 powerhouse, Pasadena Poly. While the match was already going to be a tough ask at full-strength, Maranatha will now need to find a way to still compete and keep things interesting.
The match is Friday, October 4 at 3 p.m.at Occidental College.
Maranatha High School, 169 S. St. John Avenue, Pasadena, (626) 817-4000 or visit www.maranatha-hs.org.