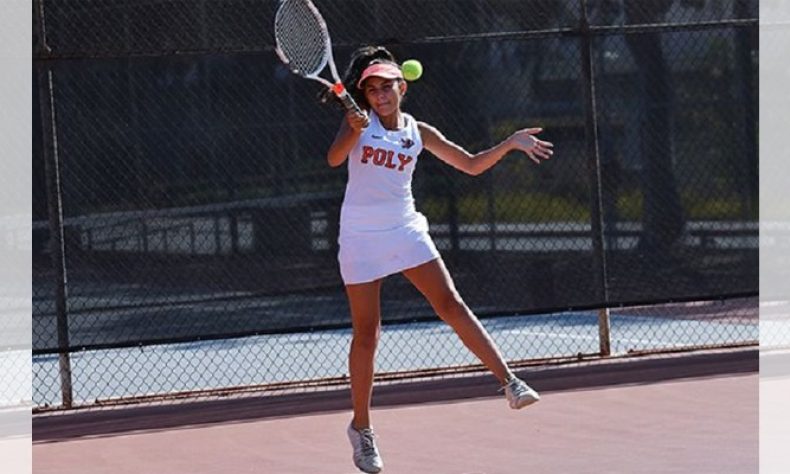 Article and Photo courtesy of POLYTECHNIC SCHOOL Poly's girls tennis proved themselves to be the Prep League strong force after they finished their regular season undefeated. On Tuesday, the girls hosted Flintridge Prep in their last game of the season. This also served as their senior game, during which they celebrated their six seniors. Going […]
Article and Photo courtesy of POLYTECHNIC SCHOOL
Poly's girls tennis proved themselves to be the Prep League strong force after they finished their regular season undefeated. On Tuesday, the girls hosted Flintridge Prep in their last game of the season. This also served as their senior game, during which they celebrated their six seniors. Going into this last match with confidence, the girls did not let up. They put the Rebels away with a score of 13-5, sealing the season undefeated and with the title of Prep League champions. With this, the girls punch their ticket to the CIF-SS Division 2 girls tennis playoffs. Brackets will be released on Monday, Nov. 4, at 11 a.m. Congratulations to Poly's girls tennis team! Stay tuned next week for more playoff information.
On Wednesday, the team also hosted the Prep League individual tournament. This tournament is to see who will represent the Prep League in the CIF individuals tournament. Poly's doubles team of Vanessa Christopoulous and Anais Singh-Gee won the tournament, and Poly's doubles team of Noelle Daves and Sienna Lam placed second. Both teams qualified for the CIF individuals tournament. Polytechnic School congratulates both teams!
Polytechnic School, 1030 E. California Blvd., Pasadena, (626) 396-6300 or visit www.polytechnic.org.