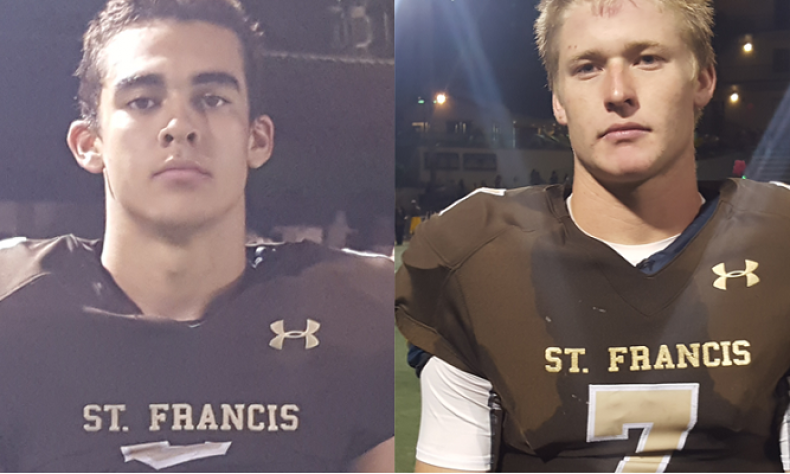 By BRIAN REED-BAIOTTO, Sports Editor St. Francis (7-0, 2-0) at Harvard-Westlake (3-4, 0-2) Friday at 7 The first seven weeks of the 2016 football season couldn't have gone any better for St. Francis. The Golden Knights are 7-0, including wins over La Salle and Salesian in Angelus League play. St. Francis will finish its final […]
By BRIAN REED-BAIOTTO, Sports Editor
St. Francis (7-0, 2-0) at Harvard-Westlake (3-4, 0-2) Friday at 7
The first seven weeks of the 2016 football season couldn't have gone any better for St. Francis.
The Golden Knights are 7-0, including wins over La Salle and Salesian in Angelus League play.
St. Francis will finish its final three games of the regular season on the road, and it starts this Friday at Harvard-Westlake.
The Golden Knights scored 10 points in the final four minutes in last week's win over a very tough Salesian team when Gabriel Mathews caught an 80-yard pass from Michael Bonds, and Dulles Hanula booted a 34-yard field goal to account for the 20-13 victory.
And while Harvard-Westlake has been outscored by a combined 57 points in two Angelus League losses to Salesian and St. Paul, the recent history shows this match up tends to stay close.
"Going on the road to Harvard-Westlake will be nothing like playing at Friedman Field, which we have had the comfort of doing for the last four games, St. Francis coach Jim Bonds said. "There will not be nearly as many people at the game and it will be extremely quiet! We need to bring our own energy and play with great enthusiasm."
As always, quarterback Michael Bonds will lead the offense.
Bonds has thrown for nearly 1,400 yards, has 16 touchdown passes and just three interceptions.
Bonds has been especially efficient of late, hasn't thrown a pick in a month, and has 9 TD passes to just 1 interception over that time.
Jace Harrick and Elijah Washington will be as valuable as always. The Golden Knights duo averages a combined 150 yards per game and have rushed for 7 touchdowns.
Daniel Scott leads the receiving core with 435 yards and a team-high 7 touchdowns.
He also plays in the St. Francis defensive backfield and has five interceptions, and a punt return for a touchdown.
"It's important that we supply ourselves with our own energy," Scott said. "We need to stay fired up from the start and begin fast. We need to play Golden Knight football, and I think we should come out with a win."
Not to be overlooked, the St. Francis defense has been incredible.
In two of their last three games, they've held high-scoring opponents (Buena Park and Salesian) to 30-plus points under their per-game scoring averages.
The turnover battle has been as key as any to St. Francis' perfect season.
Last week alone, Andrew Monarrez, Daniel Scott and Bobby Gazmarian had interceptions of Salesian quarterback Robbie Blosser, and Zach Kejmar recovered a Mustangs fumble on the Golden Knights' 5-yard line.
But one could name the entire Golden Knights defense as all have played an enormous role in shutting down prolific offenses.
St. Francis hopes to get back its leading tackler (Maxx Jakeway), but they will be anchored as always by Gabriel Grbavac and the rest of its stingy defense.
Angelus League Standings:
St. Francis 7-0; 2-0
Cathedral 7-0; 2-0
Salesian 5-2; 1-1
St. Paul 3-4; 1-1
La Salle 4-3; 0-2
Harvard-Westlake 3-4; 0-2
Angelus League Schedule For Oct. 21
St. Francis at Harvard-Westlake
St. Paul at La Salle
Salesian at Cathedral