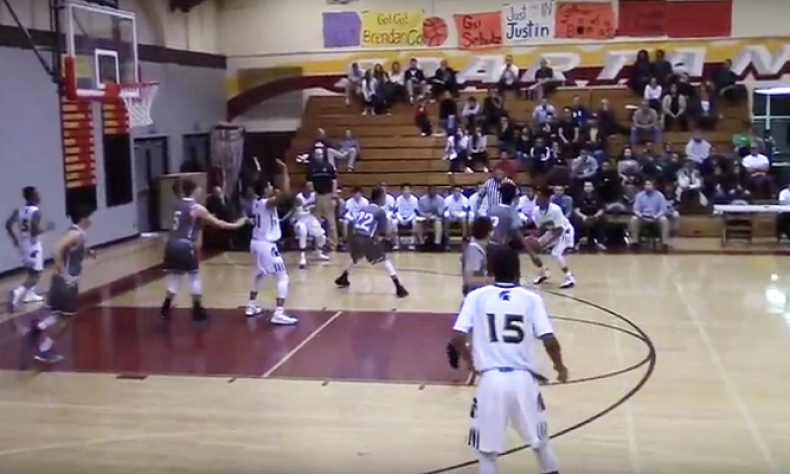 Youtube screen grab. Courtesy of SoCal Prep Legends (SCPL) From STAFF REPORTS St. Francis has started the 2016-17 season on a high note. The Golden Knights won just 7 games all of last year, and already have 5 victories over the first few weeks of the new season. But St. Francis ran into a buzzsaw […]
Youtube screen grab. Courtesy of SoCal Prep Legends (SCPL)
From STAFF REPORTS
St. Francis has started the 2016-17 season on a high note.
The Golden Knights won just 7 games all of last year, and already have 5 victories over the first few weeks of the new season.
But St. Francis ran into a buzzsaw Friday night when they fell, 83-59, to Damien at the La Canada Tournament.
The Golden Knights are now 2-1 in the tournament and play Saturday night at 6 on the final night of the tourney with an opponents to be announced tomorrow.
St. Francis (5-2) had nine players with at least 5 points apiece, but Damien (9-0) had already amassed a 28-point lead through three quarters.
Sean Stephen had 9 points, Andre Henry and Omari Moore had 8.
Kevin House, Lucas Shin, Daniel Scott and Matthew Molina each scored 6 points for the Golden Knights.
Joey Walsh and Malakhi Jensen had 5 points apiece.
Moore led SFHS with 6 assists and Henry had 6 rebounds
House and Shin had two 3-point baskets apiece.
Despite the lopsided loss, the Golden Knights shot 52% from the field and made 9 of 22 3-point attempts.
St. Francis will play tonight (Saturday) at 6 with an opponent to be decided.
Box Score:
St. Francis: 18-11-10-20-(59)
Damien: 27-16-24-16-(83)
Records:
St. Francis 5-2; Damien 9-0