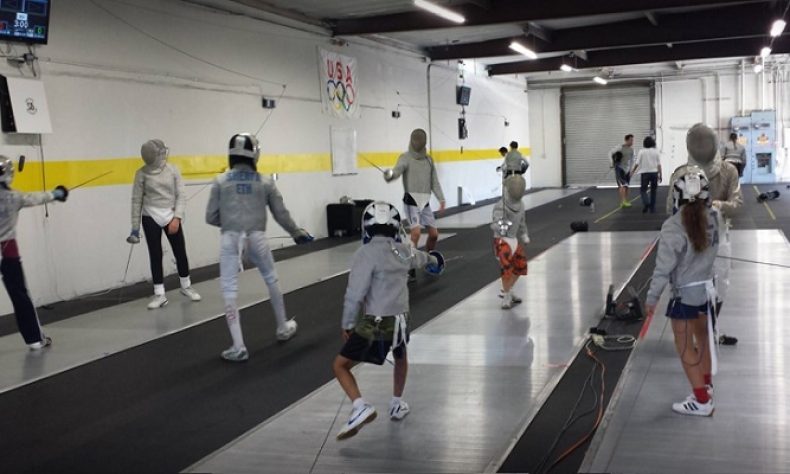 From STAFF REPORTS Salle D'Asaro Fencing Club opens its doors to a second location in Pasadena. Founded and headed by Olympian Michael D'Asaro, Salle D'Asaro runs a top saber fencing program whose athletes travel for competitions regularly, and rank among the top in the nation. The Pasadena location, at 310 South Rosemead Boulevard, is led […]
From STAFF REPORTS
Salle D'Asaro Fencing Club opens its doors to a second location in Pasadena. Founded and headed by Olympian Michael D'Asaro, Salle D'Asaro runs a top saber fencing program whose athletes travel for competitions regularly, and rank among the top in the nation. The Pasadena location, at 310 South Rosemead Boulevard, is led by coach Jessi Milestone – a competitive fencer since the age of fourteen, a coach since 2008, and one of the country's top saber referees. They offer group classes and private lessons for all ages and skill levels.
Fencing is a sport that can be started and enjoyed at any age; it challenges the mind as much as it does the body, builds confidence, and teaches self-discipline (plus, it looks great on a college resume!).
Striking a healthy balance of fun and hard work, the Salle D'Asaro coaches strive to build relationships with all of their students to give them the tools they need to meet their individual goals. Of the Pasadena location, one parent says, "My son loves [coach Jessi's] fencing teaching as well as looks up to her as a mentor". Whether your goal is to improve your personal fitness, succeed in local competitions, or win a national medal, Salle D'Asaro is committed to getting you there.
Group classes meet on Mondays, Thursdays, and Fridays. Youths, ages 10, and under practice from 5:30-6:30 p.m. Fencers 11 years and up train from 6:30-8:00 p.m. Open fencing takes place from 8:00 p.m. to 9:00 p.m. Private lessons are available upon request. Contact coach Jessi Milestone at jmilestone22@gmail.com or (610) 220-1666 for more information, and to find out about their summer specials. Come in today, make new friends, and stab them!