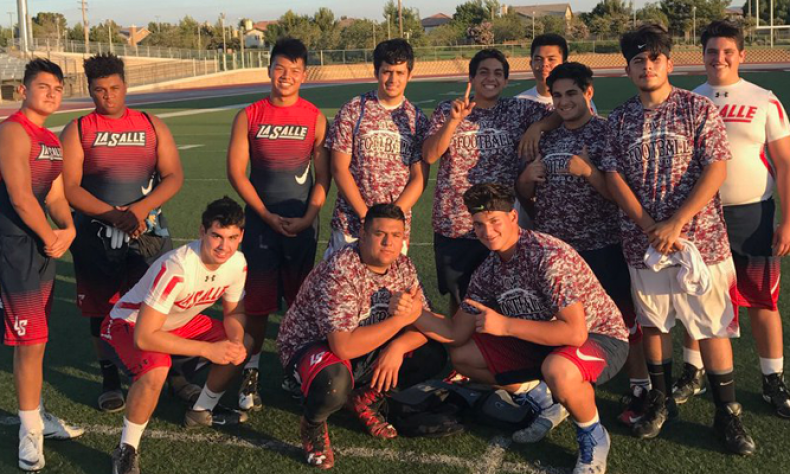 La Salle off lineman By Brian Reed-Baiotto, Sports Editor The Pasadena area's three most successful programs of a year ago will all be back on the field in preparation for the 2017 football season today (Wednesday). La Salle and Poly both have "Week Zero" games on August 25, and St. Francis opens the season a […]
La Salle off lineman
By Brian Reed-Baiotto, Sports Editor
The Pasadena area's three most successful programs of a year ago will all be back on the field in preparation for the 2017 football season today (Wednesday).
La Salle and Poly both have "Week Zero" games on August 25, and St. Francis opens the season a week later.
The Lancers began prepping a week ago, while the Panthers and Golden Knights have their first official practice today.
Each of the three graduated key seniors, but optimism is high.
La Salle lost (graduated) 22 seniors, and most of the 22 had a significant role in the Lancers breaking some team and individual records last year.
The Lancers have two underclassmen fighting for the quarterback duties.
Sophomore Chris Wilson and freshman CJ Montes both have a solid shot at being behind center on August 25th.
It would be near impossible to match the numbers Amon Milliner put up last year, but freshman Damian Curl will start the year at running back and he's already turning heads with his preseason workouts.
La Salle will have an intra-squad scrimmage this Saturday and then the Lancers scrimmage Quartz Hill the following week.
"We lost a lot of talent, but so do most teams each year," La Salle coach Russell Gordon said. "We're trying to build a program here, and not just a team. Whichever guy (Montes or Wilson) earns the quarterback job is going to be a fun player to watch this season."
** St. Francis opens the season on Thursday, August 31, when the Golden Knights host Mira Costa.
Coach Jim Bonds enters his 18th year with the same challenges as every team in replacing some very important and high-profile seniors from last year's 9-2 run.
One of the area's best running backs Elijah Washington returns a year after he shared half of the carries with Jace Harrick.
Washington is very quick, reads the field well, is very smart and has solid foot work, and with Harrick gone, Washington is poised for a big season.
Last year, Gabriel Grbavac, was as dominant on the defensive line as anyone in the area and he'll be back this season, and looking to wreak havoc on opposing offense's.
Big-game players Greg Dulcich and Bobby Gazmarian also return for Bonds.
** Poly is coming off a 10-1 season, but they too lost their quarterback (John Genske), running back (Brady Carter) and defensive back (Will McConnell).
But of the area's "big three," Poly returns more talent (returning stat leaders) than the others.
The Panthers open August 25 at Temple City.
Matt Loomis is likely to start the season at quarterback just a few months after he dominated on the mound for the Panthers baseball program.
Christian Henderson and Cameron McFarlane are expected to put up huge numbers for coach Chris Schmoke.
Jackson Hayes (slot back, defensive back) is also a star in the making and will be fun to watch. He also runs the point for Brad Hall's basketball program.
Pasadena Now will have in-depth team previews next week for La Salle and Poly, and another for St. Francis the following week with video interviews of coaches and key players.