By Brian Reed-Baiotto, Sports Editor The prep football season will kick off in 13 days for local high schools. But for Pasadena High School basketball standout Darius Brown II, his season ended just a couple weeks ago after playing all year. Brown led PHS to the CIF-SS Division 1-AA finals as well as the CIF […]
By Brian Reed-Baiotto, Sports Editor
The prep football season will kick off in 13 days for local high schools.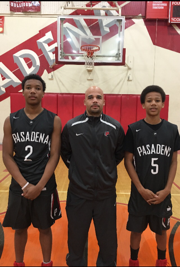 But for Pasadena High School basketball standout Darius Brown II, his season ended just a couple weeks ago after playing all year.
Brown led PHS to the CIF-SS Division 1-AA finals as well as the CIF State regional finals last season.
The Bulldogs junior wasn't just the area's best point guard, he was also arguably as complete a player as anyone in the area.
He averaged 17 points, 6 assists, 4 rebounds and 3 steals per game in typically 29 minutes of work for coach Tony Brooks' program.
Pasadena won another Pacific League title, and in fact, did not drop a league game all year. They won 19 consecutive games between Dec 29-March 3.
They lost in the CIF finals to Harvard-Westlake, but the Bulldogs showed their mettle a week or so later when they defeated those same Wolverines in the state playoffs on the road.
After losing to Esperanza in the CIF State regional finals on March 18, the "regular season" was over for Pasadena.
But the very next day, Brown was on the court trying out for travel ball teams and ended up fitting well into the LA Rockfish system where he ran the point, and even teamed up with Maranatha star junior Chris Austin.
Brown played this year all over California, as well as tournaments in Dallas, Las Vegas and Indianapolis.
Many parents, coaches and experts continue to debate whether it's good, bad or indifferent for a high school kid to focus so much time on one sport, and do so without much of a break.
People wonder what toll the body and mind takes when a teen is engaged for so long in a physically and emotionally endeavor.
And while many of his friends were enjoying the weather at the beach, Brown spent his summer in both the basketball and weight rooms.
Summer and travel ball, for many, are a player's best chance to be noticed by scouts and coaches from colleges throughout the U.S., who maybe didn't see them play during the high school regular season.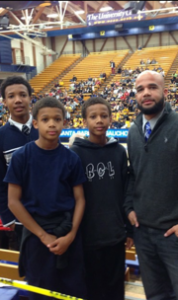 At Pasadena High, Brown plays along a superstar named Bryce Hamilton.
Hamilton is without question the area's best player, and at 6-foot-4, and averaging 24 points and 13 rebounds a game, the Bulldogs' lefty is getting offers from the nation's elite programs.
Make no mistake about it, Brown loves Hamilton, is incredibly happy for his teammate/friend, and believes Bryce has earned every inch of ink of every story written about him, as well as every offer the soon-to-be senior has gotten.
But Brown also has to worry or at least focus on his future and how better to do it than to play with and against the nation's top prep players in showcase tournaments.
The just-turned 18 year old plays for a remarkable man named Tony Brooks at Pasadena.
Brooks is a father figure to some and at the very least a second father type in his player's lives.
He expects arguably more out of Brown than anyone on his team, because he knows the bright young man can handle it and as his point guard, Brown is essentially the quarterback of the Bulldogs team.
Brooks expects Brown to know where every player on the court is supposed to be at any moment and in every offensive set that PHS runs.
At practices or during games, Brown and Brooks know each other so well, that Brooks can look at Brown and his point guard knows exactly what his coach wants from him.
Brown is saddled with being a coach on the court and in some cases, he's asked to get in a teammate's face.
Brooks is much more concerned and in tune with his player's grades and lives than he is in their on-the-court success.
His father, Darius Sr., is an assistant coach at PHS and has been a coach for his son, Darius II, or as many of us call him, DBII, since the age of 5.
Together, Brooks, Brown and his son have him primed for an enormous senior year to come, both individually and as a program.
So, where does his life's work up this point have DBII sitting in terms of the next level?
As of now, he has had conversations with the University of San Diego as well as the West Point Academy, but many expect doors to open over the next several months when his skills are back on display.
The process, though, is what people talk about.
Playing summer ball (travel ball) and making trips to Dallas and Indianapolis add up financially, and it leaves little time for many of these athletes to just be "kids."
Brown's parents, Leah and Darius Sr., have done a remarkable job putting all three of their kids first (Darius II, Davian and Drew) financially, and they deserve a tremendous amount of credit for the way their boys carry themselves.
DBII is one of the most humble, intelligent, driven and accountable athletes this reporter has met in my 18-year career covering high school and college athletics throughout the San Gabriel Valley, Inland Empire and Orange County.
Brown is much harder on himself in losses and deflects any credit for his role in the success at PHS, despite being the Tom Brady of the team.
The ways in which he carries himself, his focus on the important things in his life (school, basketball, family) is a true reflection of the incredible influence both his parents have had on him.
Mike Krzyzewski, the Duke head coach, who has more wins than any college coach in history has said famously, that the first thing he looks at in a potential recruit is the respect or lack thereof that athlete shows his parents.
In his case, Brown considers his mom Leah, and father Darius Sr., not only heroes, but role models as well.
"I am who I am because of my parents," Brown said. "As I've grown older, they've given me more room on to make my own decisions, but I was raised to know what was the right and respectful path to take. I never want to let them down, and I am also trying to be a role model for my two younger brothers. I am so proud of the work ethic and people my parents are and of the people they expect my brothers and me to be."
Why have some scouts and coaches overlooked Brown to this point?
Many (in most sports) expect or want an athlete to fit into a cookie cutter that fits their position and sport.
For football, scouts want a quarterback over the 6-foot mark or somehow they aren't as marketable or have the same upside as a quarterback that is the same size of a Tom Brady (6'5″) or Peyton Manning (6'6″).
If that was a rule that was set in stone, neither the Seahawks (Russell Wilson) or Saints (Drew Brees) would have ever been able to win Super Bowls for their franchises.
Brown is just over 6-feet tall and is muscling up to about 175 pounds. He literally doesn't have a shred of fat on his body, but he still wants to get bigger and stronger to overcome anyone's doubts who might measure his height/weight over his heart and production on the court.
How is Brown addressing any size concerns?
Over the past 365 days, he's only had 15 days or so, where he wasn't in the gym lifting weights, shooting baskets or both.
In fact, during the summer, he went to 24 Hour Fitness out near his house two and three times a day to work on anything and everything to get better both as a player and for his body.
As mentioned earlier, his coach at PHS, Tony Brooks expects a lot out of his point guard, because Brooks not only believes in Brown, he also knows DBII has an intellect that can handle many different tasks at once.
"He is an incredible kid from a great family, and he has become my coach on the floor," Brooks said. "He is really, really good at making those around him better, but I think he can be 'great' at making his teammates better. I expect a lot out of him, and he's embraced that. Darius' decision to play travel ball is a good thing in that he will keep his tools sharpened, and he's playing the caliber of athletes that he would face at the next level. He has room to improve, and when he does, he is going to make a coach at the next level a very happy person for getting Darius to lead their offense."
His parents have spared no dime to make sure their three boys are able to chase their dreams, but more importantly, they've also been able to steer their boys to be quality kids in and out of a basketball gym.
DBII teeters between a 3.4 and 3.5 grade-point average, you won't hear him going off a profanity-laced tirade and he dresses and caries himself well.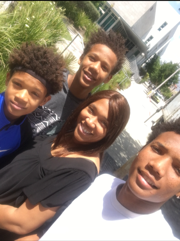 "His mother and I decided early on when we were going to have kids that we weren't going to have a 'potty mouth' and we have instilled in our son's the proper and respectful way to carry themselves, because it is the right thing to do, and we want them to have the best opportunities at being successful," Darius Brown Sr., said. "Leah and I couldn't be more proud of the way Darius carries himself and the respect he has for those around us. We're proud of how good he's become on the court, but what he is as a son, brother, student and person is something we're more proud of."
Brown's dad also said playing basketball year round isn't mandatory for everyone to be able to be seen and have a chance at the next level, but he knows his son is battling the false perception or doubts that someone has of a 6-foot point guard.
His son took notice.
"I have spent a lot of time getting physically stronger, because I know it's going to help my game when people play physical, but I also want to pass the 'eye test' so when a scout or coach looks at me, they think, "yeah, he looks the part."
If leading PHS to the CIF-SS finals and CIF State regional finals, and running the show with the stats he put up a year ago weren't enough to earn a spot at the next level, Brown has already raised his expectations for next year.
"I want to raise my free-throw percentage to about 85%, I am going to finish stronger at the basket and I want my shooting percentage to go up," Brown said. "But I'm mostly focused on being the best teammate and player that I can be. I love my coaches and teammates and we want success for each other. That's what makes playing at PHS so special. We have coaches and players who genuinely care about each other on and off the court."
How does the recruiting process affect DBII?
"It can be frustrating at times seeing people you think you're at least on the same level with getting opportunities that I haven't gotten so far, but my time will come, and until then, I will continue to work tirelessly at getting better in every facet of the game," Brown said. "It should be a fun and successful season for us (starting in November), but we won't take any shortcuts to get to where we want to be. This group and I will put in the work. And as far as playing at the next level, I believe if I do the right things, I'll get my shot."