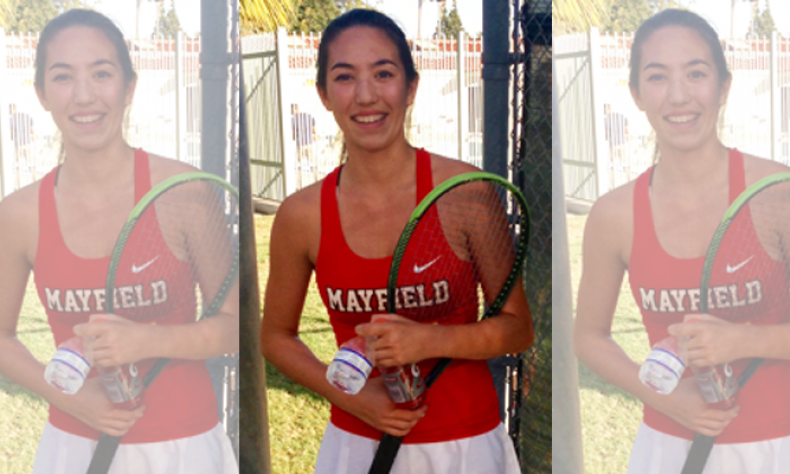 Mayfield No. 1 Singles Player, Lauren Panajotovic From STAFF REPORTS The Prep League co-champions ran into a buzzsaw Friday afternoon. With their season on the line, the Cubs knew they'd likely need three-match sweeps at the top of their singles and doubles lineups to hang with the Eagles. But Brentwood was just too strong, and […]
Mayfield No. 1 Singles Player, Lauren Panajotovic
From STAFF REPORTS
The Prep League co-champions ran into a buzzsaw Friday afternoon.
With their season on the line, the Cubs knew they'd likely need three-match sweeps at the top of their singles and doubles lineups to hang with the Eagles.
But Brentwood was just too strong, and the Eagles defeated Mayfield, 12-6, to end a very solid season for the Cubs.
No. 1 singles player Lauren Panajotovic won matches of 6-2 and 6-0 against Brentwood's No. 2 and No. 3 players, respectively.
But the Cubs best player fell, 6-4, against the Eagles' Sydney Liebowitz, in the match up between No. 1 vs No. 1.
Carly Hall and Sofia Mireles both went 1 for 3 on Friday.
Both the No. 2 and No. 3 singles players for Mayfield defeated the Eagles No. 3 player Jona Maktahni by the same exact score of 6-1.
The other two wins on Friday came from Ariana and Alexia Saigh.
Mayfield's top doubles teams won matches of 6-3 and 6-2 against Brentwood's No. 2 and No. 3 doubles teams, but they fell 7-5 in a battle of the two schools No. 1 doubles teams.
The rest of the Mayfield doubles teams went a combined 0 for 6.