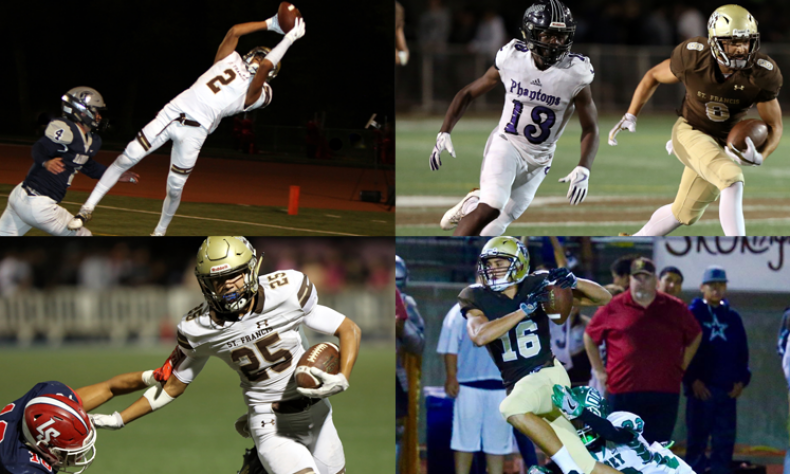 From Top Clockwise: Andrew Monarrez, Blake Howard, Greg Dulcich, Elijah Washington By BRIAN REED-BAIOTTO, Sports Editor There is no secret what St. Francis must do to earn a victory Friday night in the quarterfinal round of the CIF-SS Division 3 playoffs. The Golden Knights will take a 66-mile bus ride to the Inland Empire to […]
From Top Clockwise: Andrew Monarrez, Blake Howard, Greg Dulcich, Elijah Washington
By BRIAN REED-BAIOTTO, Sports Editor
There is no secret what St. Francis must do to earn a victory Friday night in the quarterfinal round of the CIF-SS Division 3 playoffs.
The Golden Knights will take a 66-mile bus ride to the Inland Empire to take on Citrus Hill.
The Hawks (10-1) average just 58 yards passing per game, and have just 6 total touchdowns through the air.
But Citrus Hill gains north of 300 yards on the ground per game, and they have four players with at least 300 yards rushing and four with at least four rushing TD's.
That said, stopping or containing Jonathan Jefferson is the key match up and deciding factor if the Golden Knights will make a Division 3 semifinal appearance.
Jefferson has 1,600 yards rushing and 29 TD's. He averages approximately 160 yards per game and nearly 8 yards per carry.
Citrus Hill, the Mountain Pass League champions are coming off a 56-35 victory over Newbury Park in the first round last Friday.
The Hawks defense is no slouch either.
In 7 of their 10 wins, Citrus Hill gave up less than 15 points.
In many cases, a long bus ride and a road game at a highly-ranked opponent could seem a daunting task.
This, though, is a very experienced and composed St. Francis roster, and it's very unlikely that it will be the deciding factor in the outcome.
What will, though, is if the offensive line can give Darius Perrantes enough time to throw, and if they're able to open holes for Elijah Washington and Kevin Armstead to establish a running game.
Washington and Armstead have combined for 1,332 yards and 27 TDs.
Perrantes has thrown for more than 2,000 yards and has 19 TD's to 6 interceptions.
If Washington and Armstead are successful in moving the chains, Perrantes has a chance to team with Blake Howard, Greg Dulcich, Isaac Cordova and Andrew Monarrez on a big night.
The Golden Knights receiving corps has combined for nearly 2,200 yards and 19 touchdowns.
Keep in mind, the Golden Knights' starters have only played three full games this season, so numbers are skewed much lower than they would if they played all four quarters each Friday night.
As dominant as their numbers seem and are, St. Francis matches them.
The Golden Knights have scored 53 more points than the Hawks, and have surrendered one less point.
But ask coaches on either side, and they'll tell you, the winning team Friday night will likely be the program that commits less turnovers and is flagged the least.
What should be interesting to see is how these prideful St. Francis seniors play for 48 minutes with their prep careers on the line, and to do so on the road and knowing they are at least slight underdogs.
Quotable:
St. Francis coach Jim Bonds: "Our biggest challenge will be to slow down their running game. They are committed to run and do it really well. If we can slow them down and get some defensive stops, we hope to be able to score some points against their extremely aggressive style of defense. We have our work cut out for us, no question.
I think hanging on to win a close game like we did, especially in the playoffs is huge for this team. Or guys now have a better understanding about the speed and the intensity that a playoff game brings. Nobody likes to think about turning in your football gear, so we are doing everything we can to continue to extend our season."
Citrus Hill Stat Leaders:
Running back: Jonathan Jefferson: 212 carries for 1,587 yards, 29 TD's
Running back: Jordan Kinney: 31 for 160, 5 TD's
Running back: Dee Miles: 56 for 361, 4TD's
Running back: Earl Estell: 49 for 359, 4 TD's
St. Francis Stat Leaders:
Quarterback: Darius Perrantes: 104 for 189, 2,051 yards, 19 TD's, 6 INT
Running back: Elijah Washington: 131 for 815, 16 TD's
Running back: Kevin Armstead: 75 for 517, 11 TD's
Receiver: Greg Dulcich: 31 for 724, 6 TD's
Receiver: Blake Howard: 26 for 458, 6 TD's
Receiver: Andrew Monarrez: 19 for 356, 3 TD's.
Receiver: Isaac Cordova: 17 for 341, 2 TD's
Receiver: Elijah Washington: 19 for 314, 2 TD's
St. Francis Tackles Leaders:
Blake Howard: 57
Gabriel Grbavac: 52
Will Stewart: 47
Isaac Cordova: 46
Elijah Washington 41
St. Francis Interception Leaders:
Kevin Armstead: 5
Blake Howard: 2
Bobby Gazmarian: 2
St. Francis Sack Leaders:
Blake Howard: 4
Gabriel Grbavac: 4
By The Numbers:
Records: St. Francis (10-1); Citrus Hill (10-1)
League Finish: St. Francis: Second in Angelus; Citrus Hill First in Mountain Pass League.
CIF-SS Ranking (Division 3): St. Francis 5; Citrus Hill 3
State Ranking: St. Francis 73; Citrus Hill 39
Points Scored: St. Francis 493; Citrus Hill 440
Points Allowed: St. Francis 180; Citrus Hill 181
Citrus Hill Schedule-Results:
August 25: Citrus Hill 56, Barstow 24
September 1: Citrus Hill 28, Santiago 10
September 8: Citrus Hill 28, El Camino 9
September 15: Citrus Hill 21, Rancho Verde 13
September 22: Rancho Cucamonga 30, Citrus Hill 0
October 6: Citrus Hill 56, Tahquitz 13
October 13: Citrus Hill 54, West Valley 6
October 20: Citrus Hill 48, San Jacinto 14
October 27: Citrus Hill 30, Beaumont 0
November 3: Citrus Hill 63, Hemet 27
November 10: Citrus Hill 56, Newbury Park 35
November 17: St. Francis at Citrus Hill at 7
St. Francis Schedule-Resuults:
August 31: St. Francis 48, Mira Costa 21
September 8: St. Francis 42, Pasadena 0
September 15: St. Francis 49, La Serna 20
September 22: St. Francis 49, Saugus 20
September 29: St. Francis 39, Buena Park 14
October 6: St. Francis 24, St. Paul 7
October 13: St. Francis 49, La Salle 16
October 20: St. Francis 69, Salesian 0
October 26: St. Francis 77, Harvard-Westlake 27
November 3: Cathedral 28, St. Francis 16
November 10: St. Francis 31, La Serna 27
November 17: St. Francis at Citrus Hill at 7