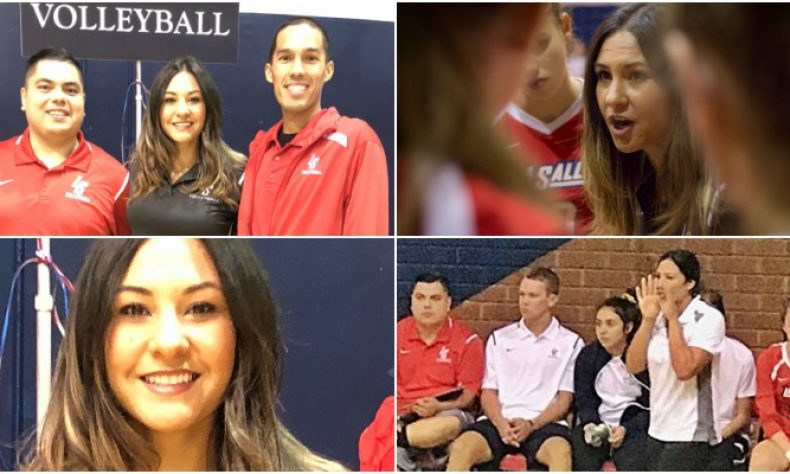 By BRIAN REED-BAIOTTO Volleyball can mirror life in many ways. There are moments of pure joy and others where we all fall short. Seventh year La Salle coach Tiare Tuitama and her program experienced both exhilarating successes and heartbreaking failures this season. That includes moments on and off the court. 2017 Pasadena Sports Now Player […]
By BRIAN REED-BAIOTTO
Volleyball can mirror life in many ways.
There are moments of pure joy and others where we all fall short.
Seventh year La Salle coach Tiare Tuitama and her program experienced both exhilarating successes and heartbreaking failures this season.
That includes moments on and off the court.
---
2017 Pasadena Sports Now Player of the Year: Allison Martinez, story on Monday; 2017 Pasadena Sports Now First Team All-Stars story on Tuesday
---
The 34-year old is an old-school, detail-orientated, intense type of leader.
In today's changing and more sensitive world, that demeanor isn't always embraced by some parents and athletes.
To her credit, she'd also be and was the first to acknowledge that mistakes were made along the way.
Coach Tui, though, as she's called by those who know her, took full responsibility for occasional missteps, and tried to become a better person and coach through challenging times.
Her peers in the coaching world and the vast majority of her players, past and present love this woman as not just a coach, but as a person and mentor, as you'll see below in the quotable section.
Whether they won or lost matches, through the highs and lows, Tuitama always tried to learn lessons from all of those experiences, and tried to pass them along to her players.
Coach Tui has a knack for getting La Salle to improve incrementally, so her Lancers are peaking towards the end of league and just before the CIF-SS playoff begin.
Tuitama's most impressive trait is how she's able to lead the Lancers to higher levels after taking falls throughout the season.
Each time they faced a setback, whether that was a nonleague tournament loss, or a CIF-SS Division 3 finals defeat, Tui  was able to make adjustments and they came back stronger each time.
Many thought after losing 3-1 to Sierra Canyon in the CIF-SS Division 3 finals would spell doom for the Lancers, but to her and mostly her player's credit, they persevered and earned a spot in the CIF State Regional final, which the school had never accomplished.
And despite losing to the eventual state champs again, Sierra Canyon, the second time around they forced the Trailblazers to a fifth and deciding set.
To put that into its proper perspective, Sacred Heart Prep was swept by Sierra Canyon one week later in the state final.
For her success, her ability to adjust to the changing times, and the love she has for the sport and the program, Tuitama has been named the 2017 Pasadena Sports Now Girls Volleyball Coach of the Year.
La Salle (28-7) had more wins than any area program, despite trekking  through an incredibly tough schedule along the way.
The Lancers made the state regional finals for the first time in school history.
They went 8-0 on their way to a Del Rey League championship, and won all 24 games within those 8 matches.
In her 7 years at La Salle, the Lancers have won 5 league and two CIF-SS championships (2012, 2013).
They've also been the runner up in the CIF-SS finals in both 2011 and 2017.
Her numbers speak volumes.
Since 2011, La Salle is 171-72 overall, 47-5 in league matches, and most importantly, 21-9 in the CIF Southern Section playoffs.
Tuitama is the older sister of Willie Tuitama, a former Heisman Trophy finalist while playing quarterback for the University of Arizona.
Her brother is the offensive coordinator for Russell Gordon's football program at La Salle, and she and her brother are extremely close.
Tuitama experienced firsthand that old-school, tough-love kind of style back when she played at St. Mary's High School in Stockton and at Cal State Los Angeles.
While growing up, like most of us over 30,  the old saying we heard was if a coach is yelling at you, it means they care and you matter. It's when they stop showing passion towards you that should be concerning.
As you'll read below, her players say candidly that she can be hard nosed, but they also acknowledged they are better off for it, as both athletes and adapting to the harsh realities of life as a young person.
Her parents both impacted her not only as a person, but as an athlete as well.
Tiare's mom, Nancy,  was a setter at the University of Pacific, and her father, Lui played linebacker at Pacific.
"They both instilled in me  how important and vital  it was to have a strong work ethic and that everything in life will not come easy," Tuitama said. "I learned that earning things for yourself and not expecting to  be handed anything served me well as I grew up. I try and pass that along to my players."
When asking about some of the hard times and those who weren't exactly fans of her style, Tuitama took the high road and refused to bash anyone, especially not her players.
"We had some moments that weren't so fun, but I enjoyed being around my girls every day," she said. "I would want all of them to know that whether you love me or you don't even like me, I am incredibly thankful for all the hard work you put into this program and I'll never forget about your sacrifices. Each girl had a unique quality and each contributed in their own way in this record breaking season. I'll always be proud of you for that."
With expectations so high, and rightfully so, Tuitama loves the challenge of maintaining the high bar of excellence, and she'll never shy away from putting in the time or effort to keep La Salle as one of the area's premier and perennial powers.
At 34, and with the near universal support and respect she has among elite coaches and programs, Coach Tui's impact on young athletes will last decades.
She's a consummate winner that any school or program would love to have, but for now, she is all about being a Lancer, and she couldn't be more proud to be associated with a school as respected as La Salle.
Lastly, though, she wanted to end this with a word to the parents of her players.
"I want the parents to know how much I appreciate them allowing me the honor to be part of their child's growth as a player and person. It might not always show, because of the intensity of the sport, but nothing makes me more proud than seeing the way your kids behaved, competed and produced when times are challenging. I just hope I positively impacted their lives in a small way as they grow into successful and impressive young adults."
Quotable:
La Salle Athletics Director Anthony Harris: "Tiare has blossomed into the championship coach that I imagined when I first hired her in 2011. She is a master teacher as a coach, and has the ability to get the most out of her players. There is something to be said about a coach that always finds themselves in the championship hunt. Tui has all the tools necessary to continue her success on any level as a coach. I expect her to continue to grow in her coaching career and will not be surprised to see her success continue."
La Salle senior Sofia Sanchez: "Coach Tui is an amazing coach. She always put the team first and was never afraid to try new things on the court. She really tested our abilities and pushed us out of our comfort zone to become better volleyball players. It was a long season, but she stuck with us and believed in us no matter the situation. Pure gratitude and respect for Coach Tui and I'm going to miss her next year."
La Salle senior Sophia Anderson: "I think she is an amazing person and coach. She has helped me so much with my technical skills and becoming a leader. She has not only helped me on the court, but off it, and someone I know I can trust. Coach Tui has inspired me, because of her strong and brave heart dealing with everything that last season came with. I am so thankful to have had her as a coach the last four year and I hope she continues to coach with the same passion as she has always had."
La Salle senior Tori Ashkinos: "Coach Tui is a very talented coach and a great person. She is brilliant and innovative. She's able to inspire players to believe in themselves and go beyond their perceived limitations. She motivates players to do more than they think they can. Under her guidance, a setter can inspire to become an outside hitter. A libero to become a middle and a middle to become a defensive specialist. Given her amazing talents as a coach, and her confidence in players, she has been able to take La Salle to the CIF and State championship level."
La Salle senior Chloe Howell: "Coach Tui is a woman who knows what she wants, and once she makes up her mind, she goes for it. She has an uplifting spirit, even when we're losing. She has more faith in us than we have in ourselves. She always tell us that giving 100 percent isn't enough, and that's why she's always giving us more than most can give. I've known her for quite a while and I know I can go to her whether it's to make small or big decisions, and whether that is on or off the court. I look up to her personality and aggression every time I touch the ball."
Former La Salle player Ravin Rhodes: "I love Tui. She's the one that taught me volleyball and I am forever thankful. As a coach, she's hard. I'm not going to lie, but she only wants the best for you and wants you and the team to succeed. As a person, she is one of the most caring and funniest human beings there are. She was practically like a second mom to me. I could come to her with issues in my life or I could just joke around and laugh with her, which is why I think she is so easy to talk to. She gets along with everybody and everybody loves Tui. If it wasn't for her, I wouldn't be where I am today playing D1 volleyball. She has done a lot not only for the La Salle and the volleyball program, but for the San Gabriel area and putting us on the map. She a great friend, coach, mentor, teacher, and all around a great person!"
Westridge coach Otto Lacayo: "Tui has done such an amazing job with the La Salle volleyball programs over the years. She has been able to bring that program around from winning a championship, through some strong rebuilding years, and back to having a powerhouse team. Every player that has had the opportunity to play for her will tell you how much they love competing on her teams. High profile programs aren't complete without a little adversity and Tui has handled every situation in stride and with grace. It is inspiring to watch her bring all these tremendous athletes together to compete for a common goal. She has always made it about her kids, the team and the journey. Everything else takes a backseat and you could only admire and respect that mind set. The Lancers had an absolutely amazing season. Congrats, Tui!"
Former Mayfield coach Stephen Bernabe: "I had the great luxury of meeting Coach Tui about 10 or so years ago when I first decided to try coaching. The reason I bring this up is because I could see her as a strong leader before winning her own CIF titles. Being around someone who could bring players together and be successful in life on and off the court at an early age was such a humbling experience. We worked at a club in which we didn't get the absolute top talent but more of the kids that couldn't afford the higher club costs. To see a coach lead kids that were not the "top" players and then to fast forward time and see her continue this success is amazing. Every coach knows that behind every game win and lose are the things that people on the outside don't get to see where we as coaches get our buttons pressed and our sanity tested. To see her succeed at the level in which she did this year with so many questions, doubters and people motivated by their selfish agendas, yet she prevailed and she should be commended at the highest level. Leaders are battle tested, succeed when things don't go your way, show the people around you that the impossible is possible and when it is all said and done are able to continue on the next day changing the next generation for the better. She is a leader/mentor that was pushed well past a breaking point, bombarded with things that would have normally broken other coaches and yet showed up to work and got stuff done. That is who Coach Tui is."
FSHA coach Trent Tcheng: "Whenever you play a Tui coached team, you know you're in for a battle. It doesn't matter if they're in a rebuilding year or are loaded with talent, you will get their best. Her players feed off her energy on the court, and it's exciting to see how her teams progress over a season. You never want to play them late in a season, because she has them playing their best volleyball in time for league and CIF playoff runs."
La Salle junior CJ Rettig: "She is a great coach and an even better person. Coach Tui is always willing to spend whatever time it takes to make you the best player you can be, and she believes in us before we even believes in ourselves. She dedicates her life to this sport and our school."
La Salle girls volleyball record since Tuitama became the Lancers coach in 2011.
171-72 overall
47-5 in league matches
21-9 in the playoffs.
CIF championships in 2012 and 2013
CIF runner up in 2011 and 2017
CIF State Regional Final in 2017
Team Record: Overall and League:
2017: (28-7 overall, 8-0 in league)
2016: (21-13, 8-0)
2015: (11-18, 1-3)
2014: (15-18, 6-2)
2013: (32-6, 8-0)
2012: (34-3, 8-0)
2011: (30-7-1, 8-0)
Playoff Record:
3-2 in 2011
5-1 in 2012
6-1 in 2013
0-1 in 2014
0-1 in 2015
1-1 in 2016
6-2 in 2017