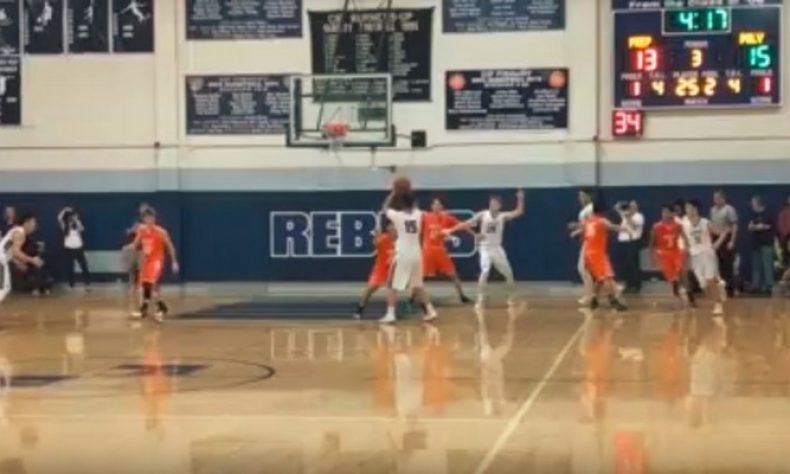 By Brian Reed-Baiotto, Sports Editor Being inside the Flintridge Prep gym Saturday night was pretty remarkable. There was an overflow crowd, including strong and vocal contingencies from both Poly and Prep. The game didn't just pit two rivals in a rare Saturday night showdown. This wasn't just a gathering of highly intelligent athletes, student […]

By Brian Reed-Baiotto, Sports Editor
Being inside the Flintridge Prep gym Saturday night was pretty remarkable.
There was an overflow crowd, including strong and vocal contingencies from both Poly and Prep.
The game didn't just pit two rivals in a rare Saturday night showdown.
This wasn't just a gathering of highly intelligent athletes, student bodies and alumni.
It also was a battle of two proud programs that were a combined 10-0 in Prep League play before tip off.
After scoring just 7 total points (and trailing 11-7) in the first half, it was going to take a captain to step up.
And Flintridge Prep's Johnny Le did just that.
In spite of a cold shooting first half, Le showed his moxie and scored 12 of his game-high 15 in the third quarter.
Le went 5 for 5 from the field in a (third) quarter the Rebels outscored the Panthers 23-13.
But living up to their status as rivals, Poly fought back from an 8-point deficit and the game came down to a final Panthers' shot that came up short.
It was, though, to be fair, an attempt with 3.7 seconds remaining that Poly had to go the length of the court to get off a shot, so the odds were not in their favor.
Poly got a great effort from all, but especially Nicholas Tu and freshman Brandon Szeto.
Tu led the Panthers with 12 points and Szeto finished with 8 points.
Poly outscored Prep, 11-7, in the fourth quarter and came within a basket of sending the game to overtime.
Nick Davis and AJ Nicassio had 6 points each, but it was their efforts on the boards that helped paved the way to victory.
Davis grabbed 14 rebounds and Nicassio had 12.
As disappointed as Poly was when they left the gym around 8:30, the Panthers know they can still earn a share of the Prep League title if they can defeat the Rebels on Tuesday night, and in their own gym.
Quotable:
Flintridge Prep coach Garrett Ohara: "We told the guys at halftime that they (Poly) played great defense, so we tried to get the ball inside to help out. Hats off to senior captain Johnny Le, who missed quite a few shots in the first two quarters and then went 5-for-5 in the third quarter. Both schools handled themselves very well."
Flintridge Prep senior captain Jonathan Le: "Every year, this is the most crowded game. It (the crowd) really affected both teams in the beginning. At half time, Coach Ohara told us all to settle down and changed the offense a little bit, and we changed our mind set in getting over the nerves. It feels good (to do my part), but I always trust my teammates to pick up the load."
Flintridge Prep senior Nick Davis: "It's awesome. It's my first year on varsity and I've been waiting four years for this moment. I was trying to board when I saw my shot wasn't falling. It's electric (the fans) and it was everything and more than I was expecting."
Flintridge Prep junior AJ Nicassio: "We were still playing great defense (in the third quarter) but we started hitting our shots and that helped. Johnny was hitting a bunch of crazy shots and just went off. I played a lot of defense and grabbed some boards, along with Nick."
Box Score:
Poly: 8-3-13-11-(35)
Prep: 4-3-23-7-(37)
Poly scoring: Nicholas Tu 12, Brandon Szeto 8, Jackson Hayes 6, Mateo Taylor 5, Nick Richard-Craven 4.
Flintridge Prep scoring: Jonathan Le 15, Nick Davis 6, AJ Nicassio 6, John Au 5, Zach Kim 3, Majeed Ismail 2.
Prep League Standings:
Flintridge Prep (12-10, 6-0)
Poly (18-3, 5-1)
Rio Hondo Prep (10-10, 3-5)
Chadwick (9-11, 2-5)
Firebaugh (3-17, 0-5)
Remaining Schedule:
Tuesday: Flintridge Prep at Poly at 6:30
Wednesday: Flintridge Prep at Firebaugh at 7
Thursday: Poly at Firebaugh at 6:30