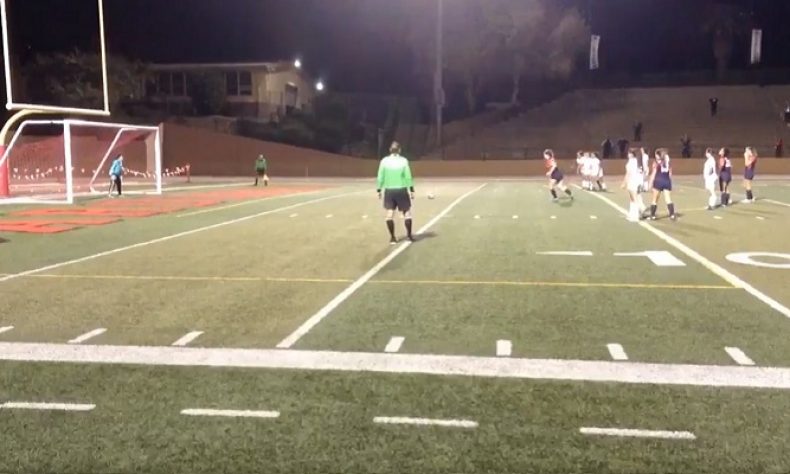 In the 5th minute of OT your Lady Minutemen are awarded a PK and convert for a 2-1 win. Great job ladies. pic.twitter.com/dHFCT9AGjJ — Maranatha Athletics (@WeAreMaranatha) February 16, 2018 Video courtesy: Maranatha High School From STAFF REPORTS Maranatha coach Robert Gurule said via text message on Thursday night that he finally had all his […]
In the 5th minute of OT your Lady Minutemen are awarded a PK and convert for a 2-1 win. Great job ladies. pic.twitter.com/dHFCT9AGjJ

— Maranatha Athletics (@WeAreMaranatha) February 16, 2018
Video courtesy: Maranatha High School
From STAFF REPORTS
Maranatha coach Robert Gurule said via text message on Thursday night that he finally had all his players back and healthy.
And what a difference that made.
Maranatha got a regulation goal from Summer Alsarraf to get the Lady Minutemen even at 1-1 at Santa Paula.
But it was Harper Pam's penalty kick in overtime that earned Maranatha a 2-1 victory in the first round of the CIF-SS Division 5 playoffs.
Natalie Maljian played well in goal throughout for MHS.
Samantha Tizcareno scored Santa Paula's lone goal in the first half.
Denise Alvarez blocked 2 shots for the Cardinals.
Maranatha will host South Pasadena (17-3-2) on Tuesday after the Tigers defeated Glendale, 2-0, in their first round contest.
Box Score:
M: 0-1-1-(2)
S: 1-0-0-(1)
Records:
Maranatha (5-5-3); Santa Paula (11-3-3)