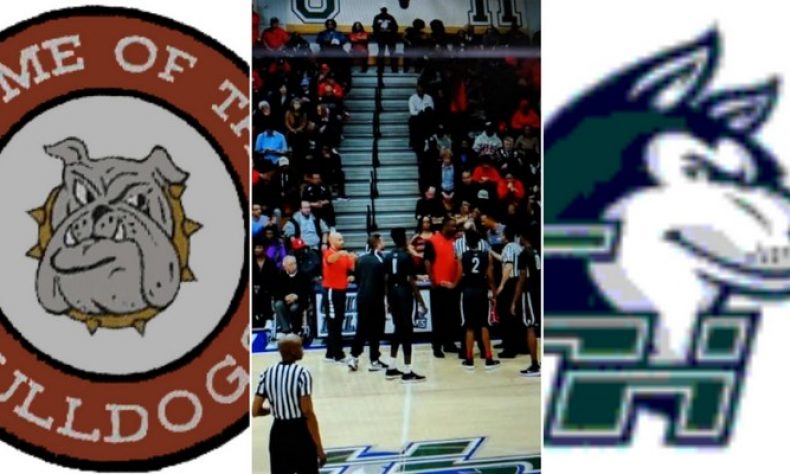 By Brian Reed-Baiotto, Sports Editor It's been almost a week since Pasadena saw its highly successful 2017-18 season come to an end in the CIF State Division 1 regional semifinal at Chino Hills. The Bulldogs fell for the second time in 10 days to the Huskies. This time around, though, PHS made a furious comeback […]
By Brian Reed-Baiotto, Sports Editor
It's been almost a week since Pasadena saw its highly successful 2017-18 season come to an end in the CIF State Division 1 regional semifinal at Chino Hills.
The Bulldogs fell for the second time in 10 days to the Huskies.
This time around, though, PHS made a furious comeback and were within striking distance late in the contest.
Chino Hills, the CIF-SS Division 1 champs, held a 30-point lead (41-11) in the second quarter.
The gritty Bulldogs fought all the way back to within 75-74 in the waning moments of the game, but ultimately fell, 77-74.
Pasadena headed home disappointed, sad, but also disgusted at the same time.
And it wasn't necessarily the losing that had the PHS coaches, players and fans irate, it was a series of unprecedented and irregular scenarios they allege were directed their way that left them bewildered.
Often times, stories recapping controversial incidents come down to a he-said, he-said scenario, but PHS has provided video to back each and every claim.
To be fair and objective, we also reached out to Chino Hills for comment and to give them the opportunity to tell their side of the story.
Those efforts, though, including an email to CHHS athletic director Sam Sabbara were not returned.
Pasadena head coach Tony Brooks, also serves as the Bulldogs' athletic director, and he isn't a man that creates controversy nor does he initiate conflict with other coaches or programs.
Brooks, however, was thoroughly disappointed in the way things were handled, so he put together and then sent in a three-page narrative to CIF with video proof, and the most PHS got back was that this needed to be handled between the administrations of both schools.
The controversy began late in the second quarter when a Pasadena player committed a 'hard foul' on a Huskies' athlete that was going up for a dunk.
The refs called Brooks and Chino Hills coach Dennis Latimore together in an attempt to get the game under control.
But Latimore made it clear that he wasn't having any of it with his actions towards Brooks.
"I didn't even argue (with the ref) that our player deserved the foul, but I did ask if he noticed a Chino Hills player bawling up his fist in an aggressive way, and that's when (coach) Latimore started screaming at me," Brooks said. "I asked the ref a number of times if he could ask him (Latimore) to be quiet so we could talk and the ref got frustrated and walked away."
Shortly thereafter, you can see on video where Latimore is talking to a player who's name we won't mention.
As soon as the conversation was done, this player walked directly over to the Pasadena bench and told the entire Pasadena assistant coaching staff (Darius Brown, Chris Rucker and Vahan Parseghian) "my coach sent me over here to tell you guys to shut the f*** up."
None of the coaches could believe what they just heard, and for the record, each of these three men told the same exact story and their recollections were independent of the other, and without any equivocation.
Parseghian was especially livid and told the Chino Hills player to go away, and that's when the player shot back with, "I'll f*** you up too."
Two other things that happened just before the half didn't sit well with the Bulldogs either.
The player who allegedly relayed Latimore's message stared down the PHS bench, turned to the crowd and did the slitting of the throat signal with his finger.
At another point, PHS claims Latimore was talking trash towards the PHS sideline and then pointed to the scoreboard.
Believe it or not, the controversy at this point isn't even close to being over.
In fact, this is where things get bizarre and unprecedented.
The PHS players and coaches not long after this all happened were walking back to the locker room for half time.
As Parseghian was walking with Darius Brown Senior, a woman, who turned out to be the Chino Hills principal, approached Parseghian and he claims she wouldn't identify herself, but that she did tell him "you can't come back out on the court."
"Here I am, frustrated, I can't believe a coach would tell a kid to say something like that, let alone to adults, and some lady gets in my face," Parseghian said. "I asked her on a number of occasions who she was and she wouldn't answer me. I used some language I shouldn't have, but I was caught up in the moment and thought maybe she was a parent."
Brooks spent his time in the locker room firing up his troops just before they went on the big second-half run, and as he's walking out of the locker room and onto the floor, he's just been made aware of what the principal said to his assistant coach.
Brooks immediately approaches the refs and asks if they had kicked any of his coaches out of the game and they told him they had not, nor did they see or hear anything.
Just as the ball is to be put back into play to begin the second half of the CIF State Division 1 semifinal, the Pasadena side all claims that the Chino Hills principal and athletic director approach the referee.
The ref then, alerts Brooks that Parseghian has indeed been ejected from the game.
To add insult to injury, because Brooks and Parseghian were trying to get confirmation on how they came to that decision, the refs called a technical foul.
We've reached out to longtime coaches and neither they nor had Brooks in his nearly 30 years at PHS ever seen an opposing administrator having the power or ability to have someone that is part of the competition ejected.
No one can say for sure if that is even in the rule book or proper protocol.
Now, and even though the second half hadn't started, Parseghian was done for the night or so he thought.
"I am walking to my car to leave and I have a security guard who was respectful to me, but that same principal was walking near me and I could hear her on the phone to the police and she claimed that I was vandalizing their school," Parseghian said. "I wasn't doing anything other than walking to my car to leave."
Parseghian leaves the school and the city and PHS makes a robust comeback while their assistant coach is watching the second half on Facebook live.
To be fair and credit the Chino Hills players, they were able to weather the PHS storm and not only won the game, they went on to defeat St. John Bosco Saturday night to advance to the state finals.
It's the way that everything went down, though, that has many, especially from PHS disgusted with their act.
Brooks made it clear that he wasn't questioning or trying to change the outcome of the game, but that someone needs to stand up to this type of behavior or it will continue.
"We need answers and clarification for the future so we know what can and can't be done when it comes to decisions made by non-referees and for something the officials told me that they had not seen or heard," Brooks said. "We don't want something like this to happen to anyone in the future. We were in shock with how things played out and I've gotten a number of calls from high-profile basketball coaches who couldn't believe what transpired and they said they support and understand why we needed to address this."
The antics of the Chino Hills coach and others were described by many on hand as 'bully-like behavior,' and PHS acknowledged that unless you stand up to a bully, similar behavior not only becomes accepted, the person or team doing it feels empowered.
A number of claims that PHS made are indicated below and with the approximate time stamps of each of those assertions.
This gives the reader, regardless of who's side you're on, the chance to see if you agree with the PHS anger at how things were handled of if you think it's a matter of them not accepting their loss to the Huskies.
You can and should decide for yourself if something more should have been done, and base it on the claims and evidence or lack thereof.
So far, though, on multiple social media outlets, the Pasadena claims are being heard and supported after seeing the video below.
PHS claims from this video: https://www.youtube.com/watch?v=WNbqrP3Ix1U
1) It all starts at the 17:10 mark where Tony Brooks describes Dennis Latimore getting in his face and raising his voice while Brooks was attempting to speak with the ref.
2) At the 24:10 mark, Chino Hills coach allegedly instructs his player to confront PHS coaches and say "My coach sent me to tell you to shut the f*** up."
3) At approximately the 24:45-24:55 gap, PHS contends Latimore was directing trash talk their way and pointing to the scoreboard.
4) Near the 31:20 mark, the same player who profanely confronted the coaches does the physical gesture where he slicing his throat.
We were also referred to a video from 72 hours prior at Crespi that shows this wasn't the only time the Chino Hills coach had let his anger get the best of him:
Three days before Chino Hills hosted PHS, the Huskies defeated Crespi, 80-76, and did so on the road.
Despite winning that CIF State Division 1 quarterfinal game, Latimore can be seen in this video below at the 14:10 mark, where he's chasing a ref after the game had ended, and did so over the entire length of the court.
You'll also see a pair of Chino Hills representatives run towards their coach in the hopes of saving him any disciplinary action.
The video for that altercation is here: https://www.youtube.com/watch?v=TA5x8f_c-QY
Editors Note: We made the decision not to publicly identify the names of underage kids for this controversial story, whether it was the PHS player who committed the hard foul or the Chino Hills' athlete that was accused of threatening the PHS coaches, or the player that allegedly bawled up his fist in an aggressive manner towards a PHS competitor. It isn't even our intention to take sides, it's to document Pasadena's allegations that they backed up and provided proof via video to let objective-minded people make up their own minds.