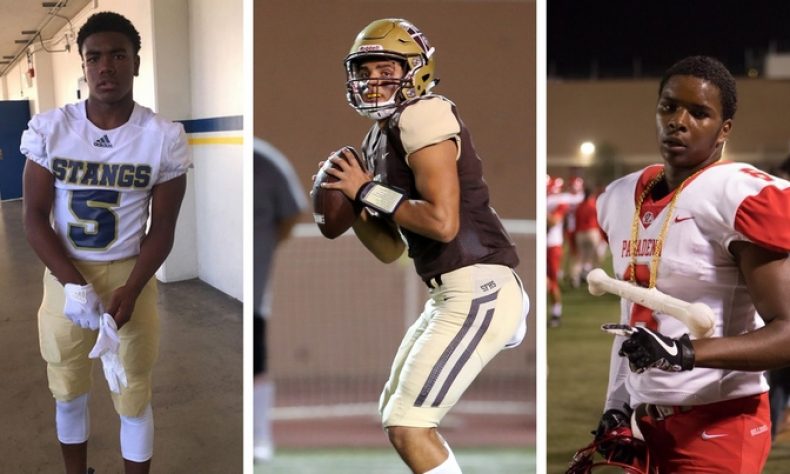 By Brian Reed-Baiotto, Sports Editor With Poly and Maranatha off during week six of the 2018 football season, that left just five area schools in action this past Friday night. St. Francis won arguably its biggest game to date this season, as the Golden Knights earned a 51-41 victory in a shootout with Mayfair. Muir […]
By Brian Reed-Baiotto, Sports Editor
With Poly and Maranatha off during week six of the 2018 football season, that left just five area schools in action this past Friday night.
St. Francis won arguably its biggest game to date this season, as the Golden Knights earned a 51-41 victory in a shootout with Mayfair.
Muir clobbered lowly Glendale as predicted, 51-0, to improve to 2-1 in Pacific League play.
Pasadena took a backwards step, as the Bulldogs dropped a 52-14 Pacific League game against visiting Burbank.
And La Salle fell to 0-7, after falling to St. Paul, 48-7, in their Del Rey League opener.
St. Francis (4-2 overall) made huge strides and outlasted a very explosive Mayfair team.
The Monsoons got 312 yards receiving and three TD's from star receiver Chris Adimora, who will attend the University of Texas next year.
Their quarterback, Josh Calvin, threw for over 420 yards.
And yet the Golden Knights found a way to escape Friday's nonleague showdown with the No. 5 team in (CIF-SS) Division 6, 51-41.
Darius Perrantes threw for 5 TD's, rushed for another, and had over 320 yards of total offense.
Perrantes did as much damage with his legs as he did with his arm on Friday.
And while it wasn't necessarily a statistical thing that would glaringly show how effective he was when the senior chose to tuck the ball and run, it was all about when Perrantes ran and his ability to get first downs on the ground to extend drives that kept Adimora and his offense without the ball in their hands for as long as possible.
St. Francis star running back Kevin Armstead came back after two games missed to injury and he didn't show any signs of rust.
Armstead surpassed the 100-yard mark, and scored both a rushing and receiving TD.
Bryson Reeves had a pair of receiving TD's, and Tanner Tomko and Jacob Buntich had one apiece.
Reeves' second TD of the night sealed the deal with 8 seconds to play and on a fourth-down call, and Tomko's was another fourth-down gamble that paid off for the Golden Knights.
Muir (5-1 overall, 2-1 in league) won its second consecutive blowout in as many weeks.
The Mustangs, as expected, put the wood to Glendale, 51-0.
They are tied for Burbank for third place in the Pacific League standings.
Chuck Shull scored three rushing TD's for the Mustangs and Amaris Harrison showed off his speed with a 40-plus yard TD run.
Brian Love had scoring strikes to both Nick Moore and Dyllan Ross.
Jordan Trice picked off the Glendale quarterback and returned it for a pick-six.
Muir will gets its first real test in the past three weeks when they take on Burroughs this Friday.
The Mustangs' last two wins over Hoover and Glendale came by a combined margin of 118-7.
Burroughs will come into Friday's showdown one week removed from a 28-7 setback at the hands of first-place Crescenta Valley.
Pasadena (3-3 overall, 1-2 in league) had a chance to make a serious statement that the Bulldogs are serious contenders to earn an automatic CIF-SS playoff spot out of the Pacific League.
Heading into Friday night's game with Burbank, PHS was in a four-way tie in third place with Muir, Burroughs and Burbank and behind Crescenta Valley and Arcadia.
But Burbank came to PHS and dominated the Bulldogs on their own field, 52-14.
PHS drops back into two-way tie in fifth place with Burroughs.
Freshman Mekhi Fox continued his excellence and had an 80-yard touchdown run.
The other PHS score came on a 70-yard connection from Andreas Solling to Jeremiah Hutchins.
PHS will beat Hoover this week, and then finish the season with Arcadia (4-2, 3-0), Burroughs (1-5, 1-2) and Muir (5-1, 2-1), and they do so with very little room for error.
La Salle (0-7 overall, 0-1 in league) got blown out for the seventh consecutive week in 2018.
But each week, it seems the Lancers are making incremental steps forward.
It still wasn't enough, however, to claw their way into striking distance of the Swordsmen.
La Salle dropped their Del Rey League opener, 48-7, out in Santa Fe Springs to St. Paul.
CJ Rettig threw a TD pass to Marcus Powe in the first quarter for the Lancers only score of the night.
La Salle will host a St. Anthony team (1-5) Friday that is having a down year, so this could very well be the best and lance chance to earn their first victory of 2018.
If they fall short for an eighth consecutive week, it certainly won't be because of a lack of preparation or effort.
Week 6 Scores:
St. Francis 51, Mayfair 41
St. Paul 48, La Salle 7
Muir 51, Glendale 0
Burbank 52, Pasadena 14
Flintridge Prep 65, Thacher 64
California School for the Deaf 64, Blair 36
** Poly & Maranatha has their bye week.
Week 7 Schedule:
Friday: Paraclete at St. Francis
Friday: Valley Christian at Maranatha
Friday: Burroughs at Muir
Friday: Pasadena at Hoover
Friday: Poly and Viewpoint
Friday: St. Anthony at La Salle
Saturday: Cate at Flintridge Prep
Football Standings Through September 28:
Angelus League:
Cathedral (5-2)
St. Francis (4-2)
Crespi (3-3)
Salesian (2-4)
Del Rey League:
St. Paul (5-1 overall, 1-0 in league)
St. Genevieve (4-2, 0-0)
Harvard-Westlake (3-3, 0-0)
St. Anthony (1-5, 0-0)
La Salle (0-7, 0-1)
Mission Valley League:
South El Monte (4-3 overall, 3-0 in league)
Arroyo (5-1, 2-0)
El Monte (5-1, 2-0)
Gabrielino (4-3, 1-2)
Rosemead (3-3, 0-2)
Mountain View (1-6, 0-3)
Olympic League:
Heritage Christian (7-0 overall, 1-0 in league)
Village Christian (5-2, 1-0)
Maranatha (3-3, 0-0)
Valley Christian (2-5, 0-1)
Whittier Christian (0-6, 0-1)
Pacific League:
Crescenta Valley (6-0 overall, 3-0 in league)
Arcadia (4-2, 3-0)
Muir (5-1, 2-1)
Burbank (3-3, 2-1)
Pasadena (3-3, 1-2)
Burroughs (1-5, 1-2)
Gabrielino (1-5, 0-3)
Hoover (1-5, 0-3)
Prep League:
Poly (4-1)
Rio Hondo Prep (4-1)
Santa Clarita Christian (4-2)
Vasquez (1-5)