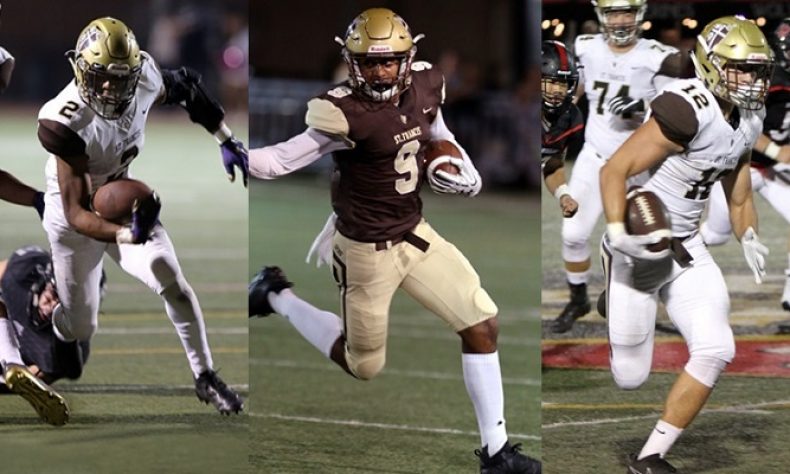 L-R: Max Garrison, Bryson Reeves, Tanner Tomko By BRIAN REED-BAIOTTO, Sports Editor/Photos by Ryan Tomey When the St. Francis football program took the field in 'Week One' of the 2018 season back on August 24 at Mira Costa, there were a lot more questions than answers. They opened the season some 265 days after their […]
L-R: Max Garrison, Bryson Reeves, Tanner Tomko
By BRIAN REED-BAIOTTO, Sports Editor/Photos by Ryan Tomey
When the St. Francis football program took the field in 'Week One' of the 2018 season back on August 24 at Mira Costa, there were a lot more questions than answers.
They opened the season some 265 days after their CIF-SS Division 3 title game appearance last December.
And while there were many holes to fill, because of the graduation of a talented senior class, there were two guys that much was expected of.
It could be easily argued that Darius Perrantes and Kevin Armstead returned as the area's best quarterback and running back, respectively.
Perrantes has thrown for 2,200 yards and 20 TD's, while averaging 250 yards per game. He's also rushed for 335 yards and 4 rushing TD's, and has compiled 63 total TD's in his two-year career at St. Francis.
Armstead missed a couple of games and still leads the Golden Knights' rushing game in carries (130), yards (917), average per-game (102 yards) and TD's (11).
Armstead also has 24 catches for 244 yards and a pair of receiving TD's, which adds up to 27 total scores in his second year at the school.
He also has 51 tackles and 5 interceptions since 2017 as a vital contributor in the Golden Knights' defensive backfield.
But what couldn't be predicted or assumed was which members of the underclassmen would, to the best of their abilities, replace 2017 seniors that led the program to their most successful season in 53 years.
Key guys like Elijah Washington (1,334 total yards, 18 TD's, 48 tackles), Greg Dulcich, (1,444 total yards, 19 TD's), Isaac Cordova (500 total yards, 4 TD's, 62 tackles) and Blake Howard (585 total yards, 7 TD's, 70 tackes) left enormous gaps that needed filling.
And while no one could expect anyone, especially those making their first real contributions at the varsity level to match those numbers, they did need for a number of players to make a sizeable impact for a program that went a combined 21-4 over the past two years.
After a 1-2 start in 2018, and some breakdowns on special teams, health issues and growing pains, St. Francis has gone 5-2 the rest of the way.
The most impressive game along the way, arguably, was their 51-41 victory over a ranked Mayfair program back on September 28, at La Mirada High School.
There are a number of players that deserve credit for getting St. Francis to this spot, including their star quarterback and running back.
But who would be that next in line player or players to help keep the Golden Knights' smooth and successful train on its track?
It turned out to be a trio, made up of a freshman, sophomore and junior that have not only exceeded expectations according to their coach, each of the three have very bright futures in the program.
Freshman running back-defensive back Max Garrison, sophomore receiver-defensive back Bryson Reeves and junior tight end-linebacker Tanner Tomko have all played huge, and in different ways to help St. Francis avoid what many considered a rebuilding year.
Max Garrison, along with Pasadena's Mekhi Fox, are what many consider to be the Pasadena area's premier freshman, and guys to look out for over the next three-plus years.
Garrison is the first St. Francis freshman to start a game in 12 years, and he was sort of forced into the role when Armstead went down for a couple weeks.
In a 17-14 home win over a Saugus team that was undefeated at the time, and finished the regular season 7-3, Garrison had his first breakout game.
The freshman had TD's via a kickoff return of 90 yards, and a short run for another score, and he picked off a Centurions' pass that was turned into 3 points.
In one way or the other, Garrison had a major role in all 17 St. Francis points.
The next week, though, he made those numbers look pedestrian, when Garrison rushed for over 160 yards and scored 5 TD's in a 48-27 road victory at former Angelus League foe, Harvard-Westlake.
In spite of seeing a healthy Armstead get most of the carries after his return from injury, Garrison is still second among running backs with 391 yards on 49 carries.
He averages 8 yards per carry and has scored 6 rushing TD's, as well as one receiving TD.
Garrison's 882 all-purpose yards have him third best, and behind Armstead (1, 274 yards) and Reeves (916).
Garrison has 29 tackles on defense and he and Mikey Kane lead the Golden Knights with 2 interceptions apiece.
What makes this kid really special is the maturity and pace in which he's been able to adapt to playing on such a lighted stage, and when needed in a pinch.
Perhaps the best trait Garrison possesses is his humility, willingness to do anything, big or small to help this team win and the appreciation he has for the privilege of playing for such a quality program, and in front of the area's most rabid home fans at Friedman Field.
He also credits his parents, Lisa and Milan, and sister, Summer, for helping push him to be the best he can be in every phase of his life.
"For Max, as a freshman, we really didn't know what to expect. He showed in the summer time that he was athletic and tough enough to play varsity football," coach Jim Bonds said. "He is a great kid from a special family, and because of young players like Max, the future for this program is very bright."
The two-way athlete is more than excited about the future of St. Francis football.
Garrison loves contributing and he said his favorite individual moment was being able to show what he's capable of in the Harvard-Westlake, 5-TD game, but what he enjoys most is being part of a group of guys he considers brothers.
"I love being part of the program and Coach Bonds is a big reason why I chose to go to St. Francis," Garrison said. "I'm excited that I get to play for him over the next three years. I didn't know what to expect coming into the season, but I just wanted to make an impact in any way I could. I was happy to get the chance to take on a bigger role. Being the first freshman to play in 12 years, I felt the stakes were high, and I'll always look to improve in every area that I can."
Bryson Reeves would be the first to tell you that he entered his sophomore season with far less confidence than he now possesses some 10 games into his prep (varsity) career.
Bonds told him early on that because of the holes that had to be plugged, they would need him to mature at a quicker rate than most players his age
Instead of cowering in a corner because of that pressure, Reeves accepted his coach's challenge and is now thriving.
Reeves is first in receiving TD's (8), he's second to Tomko in catches (33) and yards (682).
As mentioned above, the sophomore is also second in all-purpose yards (916), he contributes at defensive back and last week Reeves added a punt return to his quickly growing resume.
Just like the other two young men in this story, Reeves is easy to like, because of his selflessness and appreciation to be part of this program.
He's become a big-play option for Perrantes and averages 21 yards per reception.
"Bryson played running back as a freshman, and we moved him to wide receiver and defensive back, so we were all interested to see how he would make that switch," Bonds said. "(Along with Garrison & Tomko) Bryson has exceeded any and all expectations that we had for him."
Reeves is appreciative of his girlfriend, Daisy Cushenberry, and best friend, Ilaria Parseghian, who he says pushes and motivates him to surpass all boundaries and achieve bigger and better things.
His parents, Lydia Kennard and Sammi Reeves, have pushed their son to excel in everything he's a part of, and Bryson said their work ethic alone inspires and guides him.
His favorite individual moment was the game-clinching TD reception to put Mayfair away, and Reeves was also proud in defeat, because of the fight they put up to the end in the Paraclete game.
"Heading into the season, I thought my role would be background to Darius and Kevin, and that I would need to be a great blocker and make little plays to help our team win," Reeves said. "The first 5 games of the season were very inconsistent. Every game, I would do something well that was new to me, but everything else would fall off. I felt like I wasn't meeting our coaches expectations. Once we got into the Mayfair game, I finally had the mentality that I was a playmaker and not just a background guy."
Tanner Tomko has emerged as one of the program's most versatile players/athletes.
The junior tight end-outside linebacker is at or near the top in almost every statistical category that is relevant to his positions.
Tomko's 69 tackles are tied for most with senior captain and linebacker Will Stewart.
His four sacks are also a team-high, along with Jacob Buntich, and his 29 (assisted) tackles leads St. Francis.
And we haven't even gotten into his offensive prowess.
Tomko has a team-high in receptions (37), yards (748) and his 7 receiving TD's are just one back of Reeves' 8.
The junior averages 75 receiving yards per game and 20 yards per catch.
He's had multiple two-TD games and he seems to play his best in the week following losses, when the Golden Knights need it most.
Tomko is also a pitcher and outfielder for the St. Francis baseball program.
"Tanner is a great athlete, who did not play offense last year," Bonds said. "We had some holes to fill at tight end and wide receiver and we were hoping that he could step into the role that Blake Howard played on offense last season. I appreciate the way all three of these young men approach the game. They are all unselfish, team-first players that everyone on the staff enjoys coaching."
Just like so many players in the St. Francis football program past and present, Tomko has loving and supportive parents.
Tim and Tammy Tomko are who Tanner says guides him to be the best person, student and athlete he can be, and they prioritize it in that order.
"My mom and dad have been the strongest influences on me," Tomko said. "My mom is always there to support me and is my biggest cheerleader and my dad keeps me on the straight and narrow."
Tomko's favorite personal moment was his 19-yard, first-half TD against Damien.
It was his first career TD.
Later in the victory over the visiting Spartans, Tomko also caught a 38-yard score, both of which came from Doyle Kane.
"I needed to quickly learn how to play tight end, because I had never played that position before," Tomko said. "I needed to be a leader on defense, as I was one of just a few returning players. I was hoping to contribute on both offense and defense this year. My teammates and I still have a lot to learn, but I'm really proud of how much this young team has improved over the season. I'll continue to try and get better in every way I can and hope to continue doing my part to help this program win."
Finishing second to Cathedral in the Angelus League has forced the Golden Knights to embrace a very tough route in the CIF-SS Division 2 playoffs, one year after playing in the D-3 title game.
St. Francis opens the postseason this Friday at Calabasas.
The Coyotes (8-2) are ranked No. 12 in the state by MaxPreps.
Back to Garrison, Reeves and Tomko for a second.
All three of these quality young men wanted to emphasize how much it means to play for Bonds, his staff and in front of the most rabid prep football fans in the SGV.
Regardless of the outcome Friday, if there's one thing you can take to the bank, it's the fact that St. Francis won't go down without a fight, even in games they are considered underdogs.
In each of their four losses, which came to four playoff programs in 2018, St. Francis either made a sizeable comeback, led at some point in the game or both.
And without doubt, the growth and accumulating experience of the many Golden Knights' underclassmen has the St. Francis program looking up and doing so with heavy expectations for the immediate future.
Quotable:
SF freshman Max Garrison on Reeves & Tomko: "I have the utmost respect and love for Tanner and Bryson. They are competitors. I love playing with them on the field and I appreciate them for taking me under their wing on and off the field. Going against these two (any my other teammates) in practice improves how I see the game of football."
SF sophomore Bryson Reeves on Garrison & Tomko: "One thing I really respect about Max is his football IQ. He naturally understands how the game flows. Tanner is a consistent and dependable player, who catches everything and he keeps getting smarter."
SF junior Tanner Tomko on Garrison & Reeves: "Max is extremely skilled and a very hard worker. He has a very bright future. Bryson is also a hard-working guy and he contributes on both sides of the ball."
Getting to know Max Garrison:
Favorite Athlete: Saquon Barkley
Favorite Sports Team: LA Rams
Favorite Movie: Forest Gump
Favorite Musical Artist: Too many to name
Someone famous (alive or dead) I'd Want A Conversation With: Sean Taylor
Getting to know Bryson Reeves:
Favorite Athlete: Bo Jackson
Favorite Sports Team: Philadelphia Eagles
Favorite Movie: Deadpool
Favorite Musical Artist: Lil Peep
Musical Artist People Might Be Surprised I Like: Thomas Rhett
Someone Famous I'd Want A Conversation With: Napolean
Getting to Know Tanner Tomko:
Favorite Athlete: Aaron Rodgers
Favorite Sports Team: Alabama Football, Green Bay Packers
Favorite Movie: American Sniper
Favorite Musical Artist: Drake
Musical Artist People Might Be Surprised I Like: Elton John
Some Famous I'd Want A Conversation With: John Wooden
2018 St. Francis Schedule-Results:
August 24: Mira Costa 27, St. Francis 22
August 31: St. Francis 38, Damien 21
September 7: Westlake 35, St Francis 21
September 14: St. Francis 17, Saugus 13
September 21: St. Francis 48, Harvard-Westlake 27
September 28: St. Francis 51, Mayfair 41
October 5: Paraclete 56, St. Francis 49
October 12: St. Francis 41, Salesian 0 (two quarter game due to lightning)
October 20: Cathedral 31, St. Francis 17
October 26: St. Francis 48, Crespi 25
November 2: St. Francis at Calabasas (8-2) at 7:30
2018 Angelus League Regular Season Standings:
Cathedral (8-2 overall, 3-0 in league)
St. Francis (6-4, 2-1)
Salesian (3-7, 1-2)
Crespi (3-7, 0-3)