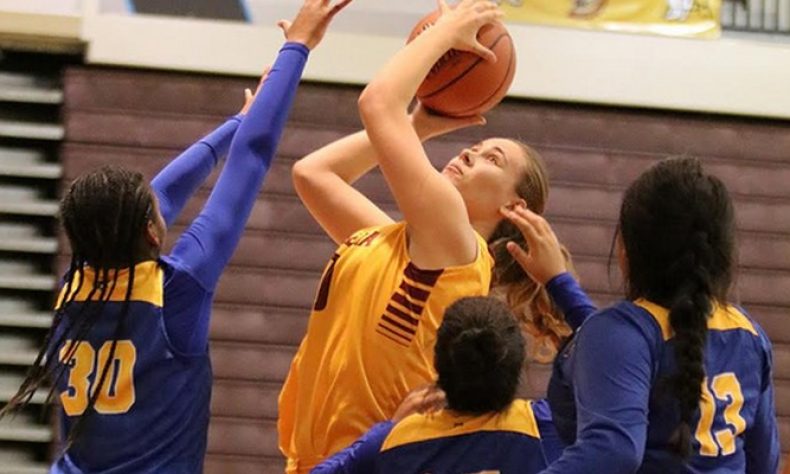 [Photo–Alisa Shinn has been a force inside for the Lancers at the start of the '16-17 season, image by Richard Quinton.] During a reign of success between 1999 and 2010, head coach Joe Peron routinely directed his Pasadena City College women's basketball teams to a Santa Claus size bag of tournament championship trophies. But until […]
[Photo–Alisa Shinn has been a force inside for the Lancers at the start of the '16-17 season, image by Richard Quinton.]
During a reign of success between 1999 and 2010, head coach Joe Peron routinely directed his Pasadena City College women's basketball teams to a Santa Claus size bag of tournament championship trophies. But until this past Sunday, the Lancers had been in a drought in the title column. PCC defeated Gavilan, 79-50, to capture the Los Angeles Southwest Tournament title, the first tourney win by a Pasadena team in three years.
"I knew it had been a while, but we seemed to run into one hot team after another at tournaments the last few seasons," Peron said. "You can take them for granted, but this was a nice accomplishment for us. We put together three good wins in a row over the three days, and got to enjoy the first place prize at a tourney for a change."
In the championship final, tourney MVP and sophomore forward Ilianna Blanc scored 16 points, dished six assists, grabbed five rebounds and made three steals. Frosh center and All-LASW Tournament selection Alisa Shinn added 16 points (plus four blocked shots) while letterman guard Jolene Robinson contributed 11 points, nine rebounds, and seven assists. Reserve center Raquel Jones had 12 points and another post player and sophomore Kailyn Gideon chipped in eight points, nine boards, and blocked three shots.
In Saturday's semifinals, PCC won a low-scoring affair against Glendale, 52-37. Shinn made a double-double in her first collegiate start on 15 points and 11 rebounds (and five blocks). Blanc tallied 13 points with seven assists and four steals. Robinson also matched Blanc in all three stats. Jelissa Puckett added 11 points.
in the opening win over LA Harbor, 85-67, on Friday, Blanc drained the nets for 28 points, Robinson poured in 20 points and pulled down 10 rebounds, and Puckett had 18 points and passed out seven assists.
The Lancers are 7-1 to start the 2016-17 season. They will play a non-conference game at LA Southwest on Saturday, Nov. 26. Tip-off is 5 p.m.