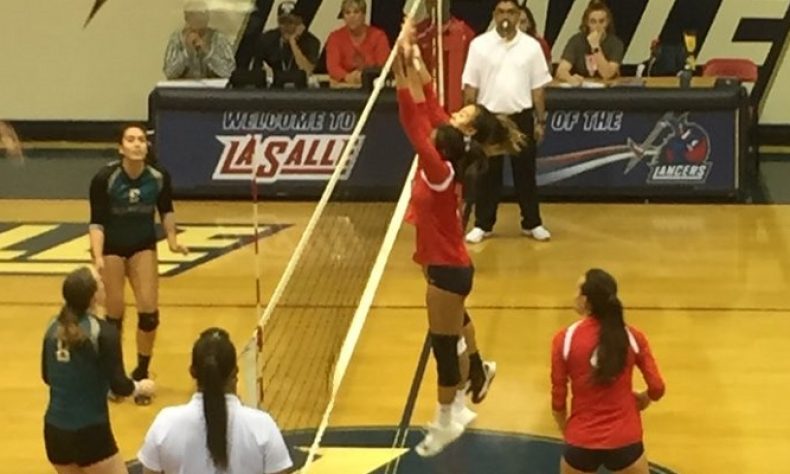 From STAFF REPORTS There isn't anything La Salle can do about their November 11th loss to Sierra Canyon in the title match of the CIF-SS Division 3 playoffs. But thanks to a strong showing in the CIF State Division 2 playoffs, the Lancers earned a chance to avenge that four-game disappointing loss. La Salle defeated […]
From STAFF REPORTS
There isn't anything La Salle can do about their November 11th loss to Sierra Canyon in the title match of the CIF-SS Division 3 playoffs.
But thanks to a strong showing in the CIF State Division 2 playoffs, the Lancers earned a chance to avenge that four-game disappointing loss.
La Salle defeated visiting Olympian of Chula Vista, 25-17, 25-12 and 25-19 Tuesday night to advance to the Regional Finals this Saturday at 6 at Sierra Canyon.
Claire Forrest had 13 kills, 9 digs and 4 blocks.
Sophia Anderson added 7 kills and 11 digs, while Sofia Sanchez had 11 kills and 3 blocks.
Tori Ashkinos chipped in 7 kills, 9 digs, 2 aces and 2 blocks.
Vanessa Ramirez finished with 19 digs and 2 kills.
Chloe Howell contributed 9 kills and 3 blocks for the Del Rey League champs.
La Salle (28-6) will head to Chatsworth on Saturday on a three-match winning streak, and all three wins in the CIF State playoffs over Bakersfield Christian, Del Norte and Olympian came via sweep.
Sierra Canyon (36-7) has CIF State victories over Carson, Culver City and Sage Hill, and the Trailblazers have won 9 of 10 games over that stretch.
Quotable:
La Salle senior Claire Forrest: "I think Sierra Canyon is a great and strong competitor, and we are excited to get the opportunity to play them again. In regards to the outcome, it's all going to depend on which team wants it more and who is going to show up that day. We beat them and they've beat us, so I think the match will come down to which team plays the hardest. I'm confident that my teammates and I will be ready to go and we're going to give it 100 percent."